Romney wins in Illinois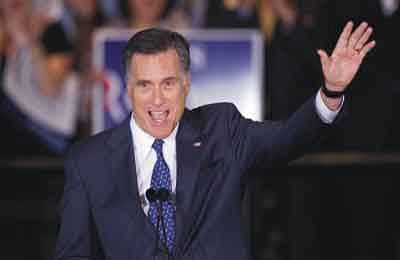 Republican Mitt Romney cruised to an easy victory over top rival Rick Santorum in Illinois on Tuesday, moving him one step closer to clinching the party's volatile battle for the presidential nomination.
Romney's comfortable win gave him a fresh burst of momentum in the White House campaign and new ammunition for his argument that it is time for Republicans to rally around his campaign and end an increasingly bitter nominating battle.
"Elections are about choices, and today hundreds of thousands of people in Illinois have joined millions across the country to join our cause," Romney told cheering supporters in Schaumburg, Illinois, a Chicago suburb.
"I'm offering a real choice and a new beginning," he said, touting his business experience and ignoring his rivals to focus his criticism on President Barack Obama. "I have the vision and the experience to get us out of this mess."
With 95 percent of the votes counted, Romney had 47 percent and Santorum, a former US senator from Pennsylvania, took 35 percent. Romney's remaining rivals, Newt Gingrich, the former US House of Representatives speaker, and libertarian congressman Ron Paul, lagged badly. Gingrich was in fourth place.
While he has failed to win over many conservatives, Romney has more than twice as many delegates to the nominating convention as Santorum. Romney's campaign has argued that his rivals cannot catch him in the contest to pick a challenger to Obama in the November 6 election.
Santorum and Gingrich hope to keep Romney from capturing a majority of delegates by the time the nominating contests end in June, leaving the choice up for grabs among the party's mostly conservative delegates heading into the August nominating convention in Tampa, Florida.
"We don't need a manager," Santorum told supporters in Gettysburg, Pennsylvania after the results were announced, referring to Romney, who is the former head of a private equity firm. "We need someone who is going to pull government up by the roots and throw it out."
The win in Illinois allowed Romney to expand his lead in delegates over Santorum. A CNN delegate count gave Romney 540 delegates to Santorum's 239 in the race for the 1,144 needed to win the nomination.
There were 54 delegates to be allocated in Illinois from Tuesday's voting, but Santorum was not eligible to win many of them because he failed to meet deadlines to file a slate of delegates in some districts.