Ctg fair comes to a sudden close
Organisers exit venue to clear way for the ruling alliance's rally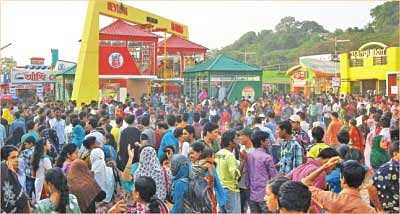 The 20th Chittagong International Trade Fair came to a close yesterday, four days ahead of schedule, depriving exhibitors of good sales and customers of shopping.
Both foreign and local traders, who were happy with sales in the last several days, said had it continued through the last day they could have recouped their investment.
The Chittagong Chamber of Commerce and Industry (CCCI) that organised the annual exposition said the ruling alliance's decision to hold a rally at the same venue on March 28 forced the organiser to wrap up.
The month-long show was supposed to close on March 24 but the participants had to leave the venue early to make room for the rally of the Awami League-led ruling alliance.
Despite the early wrap-up, CCCI officials were satisfied with the event, and termed it successful.
But traders said if the CCCI had been more serious about the exposition they could have avoided the situation. If the authorities had informed them about the decision earlier, they would not have invested so much money in the fair, they said.
Azam Qureshi, supervisor of Indian pavilion, said they had thought that they would win the hearts of local customers through their different items. But the fair came to an abrupt end before it could attract more customers.
He said they could not recover half of their investment, which was Tk 50 lakh.
Md Sohag, a supervisor of Thailand Pavilion, a partner of the exposition, said he has been participating in the fair for long. "We expected huge customers in the last week of the fair."
He said as the chamber was informed of the decision, they should have started the fair earlier.
Rafiqual Islam, an executive of Otobi, one of the top local furniture makers, said they had fixed a rational target for the fair.
The company set a Tk 4 crore sales target, only to reach half of it.
"Every year in the past, the CCCI expanded the deadline," he said. "We hoped the exposition would finish on March 31, and we set our plan accordingly."
Nurul Islam, owner of Sabuj Bangla stall, said the chamber should be more responsible in protecting interests of the traders.
The early closure irked port-city shoppers.
Lucky Akhter, a resident of Pathantuli, said it had become a tradition that the deadline of the fair extended. "We expected the same this year."
She said they spent the early days of the fair to check the quality of goods and products. "The time for shopping just ran out."
Murshed Murad Ibrahim, the CCCI president, said the chamber had to close the fair for some unavoidable reasons. "According to the rules of the exposition, we reserve the right to close it anytime."
India took part in the fair for the first time. Other participating countries were China, the USA, Pakistan, Iran, Thailand, Japan and Bangladesh. About 55,000 people visited the fair this year.