<i>Gafur turns his tube-well pipe into burner</i>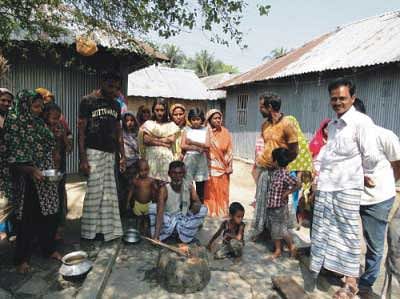 Emission of natural gas through a tube-well at Baliahalat Chawk-Joyenpur village in Sadar upazila has continued for the last few days.
Md Abdul Gafur, a resident of the village, on Monday found gas coming out through the pipe of his tube-well at a low speed.
"Setting fire on the top of the pipe, I became sure that it is nothing but gas", said Gafur.
"Later, I removed the tube-well set up including the handle and started to use the pipe as a burner for cooking".
Earlier in 2008, Gafur found gas while installing a tube-well at his residence. Later, he changed the spot and sunk it behind his house.
Using gas in this way is dangerous, as it might cause accident anytime. However, at the moment we are unable to stop the emission as no controlling system is available here, said Shailodanda Boshak, an official of Pashchimanchal Gas Company Ltd.
Terming it pocket gas, Boshak said such type of gas was found in several areas of the district.
As the gas reserve was not sufficient, none came to explore it commercially, he added.
However, another source said, Bangladesh Petroleum Exploration and Production Company (Bapex) has already taken up a Tk 89 crore project to explore gas reserve in Mobarakpur area of the district.
The project is now underway, he said.
In 2006, locals found gas in the area and later Bapex took up a project expecting to strike a big gas reserve.