My <i>Holi</i> Adventure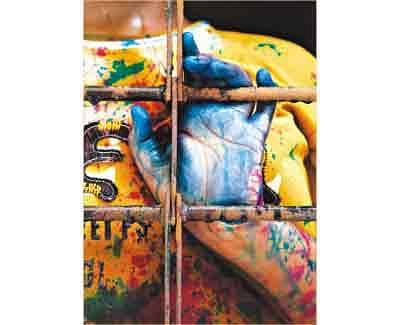 Behind the court-kachari, the entrance to Shakharibazar is barricaded. Curious onlookers and policemen peer into the dark empty street. A few diehards cross over; the crowd watches them with a mix of envy and pity. Two figures approach from the other side. Their cameras, hanging from the neck, are covered with polythene bags. Their faces are covered in deep purple, red and indigo from which their eyes seem to jump out.
It is Holi, festival of colours, in old Dhaka.
Also known as Dol in Bengali - from Radha and Krishna on a Dolna (swing) - this Hindu festival celebrates their love and spring's arrival. Festivities here go back many decades. "In the sixties, as children, we visited Tantibazar and Sakharibazar where we were fascinated by small displays of Radha-Krishna on the swing," says Dr. Dipen Bhattacharya, now a physicist in the US. Holi may have originated centuries ago in Bengal, but now it is celebrated in many places worldwide.
Soon my desire to photograph overcomes my fear of being doused in colour. And so, clutching my largish camera in one hand and a thin plastic bag in the other, I step across the barricade.
Shops are closed. The road, normally packed, is mostly empty. Groups of young people run around, grabbing each other and applying colour. Men, women, children (and some foreigners) have joined in. Children are particularly joyous.
Down the road, a sound system thumps loud music. A spontaneous group dance breaks out at the strains of a popular Bangla song. A clay kolshi full of paint is hoisted high on a bamboo suspended across the road. Underneath, a mass of people wait for this colour piñata to drench them.
Revellers spread colours in many ways. Some apply the powdered dye directly on faces. Projectile weapons - either water guns or plastic bottles with holes on their lids - are popular. Some prefer dumping entire buckets of coloured water on their playmates, jumping them from behind.
My camera protects me from the colourful attacks. "Please... it is very expensive," becomes my defence. Most people understand, but I still get drenched from above and behind. Luckily my camera is in plastic then.
My relatively untouched face must look tempting, so I move cautiously. There is an unspoken camaraderie among photographers covering the event. Some offer me sturdy plastic bags for my camera.
Good cheer and excitement pervades the air, an abandonment of worries and concerns. Somehow though, I am a distant watcher. Next year, perhaps I will leave the camera behind and dive in.
Two hours later, I feel I have used up my good luck and decide to exit via Tantibazar. A group of teenagers yells from behind: "What? No colour, uncle?" and gives chase in a friendly sort of way. At a jeweller's, a boy watches from a shuttered door. I photograph him. Then I notice his blue hands.
Outside the barricade, I heave a sigh of relief. What a major accomplishment: photographing Holi in old Dhaka with my face untouched!
www.facebook.com/tangents.ikabir