Congo warlord convicted in first ICC verdict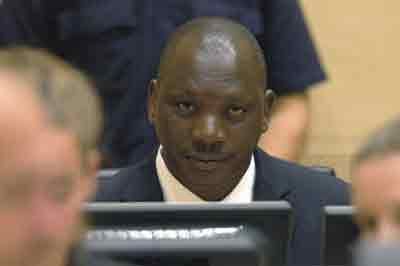 The International Criminal Court yesterday convicted Congolese militia chief Thomas Lubanga of war crimes for conscripting children into his rebel army, the tribunal's first ever verdict.
Lubanga, 51, was found guilty in The Hague of abducting children as young as 11 and forcing them to fight and commit atrocities in a bloody war in a gold-rich region of the Democratic Republic of Congo (DRC).
Rights groups hailed the judgment, saying it sent a strong message to those who force young children to kill -- including Ugandan rebel leader Joseph Kony, now the target of an international online activist campaign.
"Today's verdict will give pause to those around the world who commit the horrific crime of using and abusing children, both on and off the battlefield," said Amnesty International's Michael Bochenek.
A decade after the ICC was launched, presiding Judge Adrian Fulford read its first verdict, finding Lubanga was guilty of "conscription and enlisting children under the age of 15 and used them to participate in hostilities".
Prosecutors told the court that militia under Lubanga's control had abducted children as young as 11 from homes, schools and football fields to serve as soldiers, and that young girls were used as sex slaves.
The warlord, who has denied the charges against him, will be sentenced at a date yet to be determined, the court said. He could face 30 years in jail or, if judges decide the crimes were exceptionally grave, life in prison.