Toll rises to 112
Vessel salvaged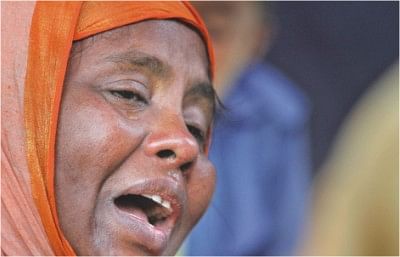 The death toll from Tuesday's launch capsize in the Meghna river has risen to 112, with dozens still missing.
The search for bodies will continue today, officials said.
Two salvage vessels pulled up the sunken passenger launch from the riverbed around 3:00pm yesterday, nearly 37 hours after it tipped over at Gazaria upazila of Munshiganj. The launch went down around 2:30am on Tuesday after being hit by a large cargo vessel, survivors said.
Rescuers yesterday recovered 76 bodies after they resumed rescue efforts around 7:00am. Thirty-six bodies were recovered the previous day.
Munshiganj Deputy Commissioner Azizul Alam said 16 people were missing as of 8:00pm yesterday. But survivors and relatives said around 100 people were unaccounted for.
Many bodies are feared to have floated away.
The exact number of passengers on the launch, MV Shariatpur-1, was not available, but survivors and officials put the number between 250 and 300.
The 32-metre double-decker was coming to Dhaka from Shariatpur.
Bangladesh Inland Water Transport Authority (BIWTA) announced an end to the rescue operation around 5:00pm, but resumed it half an hour later through searching for more bodies, which continued till 7:30pm.
"We'll continue the search efforts until we are sure that nobody is left inside the launch and around the accident scene," BIWTA Chairman Shamsuddoha Khandker told The Daily Star.
The authorities were trying to trace the cargo vessel, which sped away after hitting the passenger launch, he added.
To expedite the salvage operation, the rescue vessel Hamza reached Char Kishori, the scene of the accident, from Barisal at 1:30am yesterday to join the other rescue vessel Rustom, which had been working since Tuesday morning.
Many bodies were seen trapped inside the cabins of MV Shariatpur-1 when it was lifted from the riverbed in the afternoon.
Bangladesh Navy, Coast Guard, BIWTA, Fire Service, police and Munshiganj district administration jointly conducted the operation.
BIWTA sources said it took time to salvage the 200-tonne launch as Rustom and Hamza can lift only 120 tonnes.
Relatives, desperate for the news of their loved ones, were furious at the BIWTA officials over the slow rescue efforts.
"Rescue vessel Hamza was in Barisal. It takes five to six hours to reach Munshiganj from Barisal. Why did it take around 23 hours?" asked Hashem Mia, who was looking for his lost brother.
Many relatives stayed at a temporary shelter set up at Char Kishoreganj on Tuesday night waiting for news of their family members.
The district administration gave Tk 5,000 and BIWTA Tk 3,000 each for the burial of the dead.
Launch accidents kill dozens almost every year in the country.
At least 33 people died after MV Bipasha sank in the Meghna in Brahmanbaria in the early hours of April 21 last year.
On July 6 the same year, at least nine people drowned after a passenger launch, MV Madinar Alo, capsized in Munshiganj in the Shitalakkhya.