Death anniversary of poet Jasimuddin today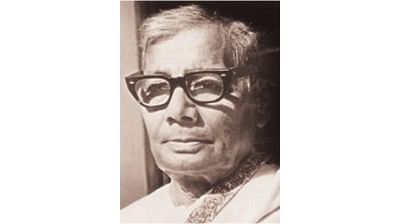 Today marks the 36th death anniversary of poet Jasimuddin.
Jasimuddin was born on January 1, 1903 at Tambulkhana in Faridpur. He completed IA from Rajendra College in 1924, and BA and MA in Bangla from the University of Calcutta in 1929 and 1931 respectively.
In 1938 he joined the University of Dhaka as lecturer. He left the university in 1944 to join the Department of Information and Broadcasting. He continued working there, until his retirement as Deputy Director in 1962.
Jasimuddin's poetic prowess developed early. As a college student, he wrote the poem "Kobor" (Grave). The poem, a dramatic monologue of an old man talking to his grandson in front of his wife's grave, was included in school textbooks while Jasimuddin was still a student at university.
His first book of verse, "Rakhali" (Shepherd), was published in 1927. Other notable books include "Nakshi Kanthar Math" (1929); "Shojan Badiyar Ghat" (1933); "Rangila Nayer Majhi" (1935); "Matir Kanna" (1951); "Suchayani" (1961); "Padma Nadir Deshe" (1969) and "Beder Meye" (1951). He edited two books on folk music: "Jari Gaan" (1968) and "Murshidi Gaan" (1977).
Known to Bengalis as 'Polli Kobi' (folk poet), Jasimuddin poetry is a testament to the unpretentious, effortless appeal of rural Bengal and folk life. His poetic rhythms are drawn from folk elements, easy on the ear and quick to imbed themselves in the memory. He was also a writer of fine prose -- fluent, witty, and expressive.
Jasimuddin was one of the pioneers of the progressive and non-communal cultural movement in Bengal. He was an ardent supporter of socialism and of Bengali nationalism. In the 1950s when the government of Pakistan attempted to stop broadcasting Tagore songs, he protested boldly.
Jasimuddin also composed numerous songs in the tradition of rural Bengal. His collaboration with folk singer extraordinaire Abbasuddin produced some of the gems of Bangla folk music, especially of the Bhatiali sub-genre.
Jasimuddin also wrote some modern songs for the radio. "Nisheethey Jaiyyo Phoolbon-e Re Bhromora", written by Jasimuddin and recorded by the legendary music composer-singer Shachin Dev Barman remains hugely popular to this day.
In 1969 Jasimuddin was awarded the DLitt by Rabindra Bharati University. He also won several awards, including Ekushey Padak (1976) and Swadhinata Dibas Puroshkar (posthumous, 1978). Jasimuddin died in Dhaka in 1976 and was buried in his own village.
Compiled by Correspondent