Pagla Kanai's 202nd birth anniversary observed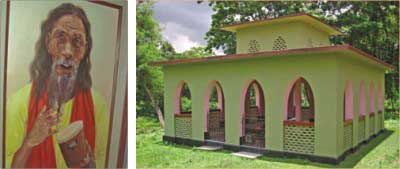 On the occasion of the 202nd birth anniversary of mystic bard Pagla Kanai, a three-day folk festival and a mela (fair) were held at Pagla Kanai complex. The anniversary was observed on March 8 in Jhenidah in a befitting manner. The programme was arranged by Pagla Kanai Smriti Shangrakkhan Shangshad (PKSSS) of Berbari village, Jhenidah.
Local lawmaker Abdul Hye was present as chief guest at the opening programme. Nurjahan Begum MP; Dr. AHM Akhtarul Islam Jillu, Assistant Professor of English, Kushtia University; Babu Kanak Kanti Das, Sadar Upazila Chairman and Police Superintendent Rezaul Karim were present as special guests. The programme was presided over by Roma Rani Roy, Deputy Commissioner (DC) of Jhenidah.
Several stalls were set up around the shrine complex of Pagla Kanai. Visitors in thousands thronged the venue. A good number of devotees of Pagla Kanai paid tribute to the legendary mystic.
Pagla Kanai was born in Labutala Madhabpur village under Jhenidah district on March 18, 1809.
Kanai became renowned for his folk songs. He composed a good number of devotional songs but many of these have not been preserved. An auditorium and library named after him now stand near the shrine.
Pagla Kanai's passion and intense spirituality were evident at an early age, hence the locals started calling him "pagla" (crazy).
Kanai left his village to evade the oppression of the representatives of the British rulers who forced the farmers to cultivate indigo. Dirt-poor Kanai became a drifter after his father's death. Many were taken aback by his eclectic spiritual songs and 'dhua jaari'. His spiritual inclination put him in touch with the Bauls and fakirs of the area.
People from all walks of life used to throng his 'ashor' (performance) and listened to his songs for hours. Gradually his fame extended far and wide.
Pagla Kanai's songs can be classified into Jari, Dhua, Pala Gaan, Kobi Gaan, Murshidi, Marfati, Islamic and more.
Scholars such as Mohammad Mansur Uddin, Dr. Mazharul Islam, Abu Talib, Amin Uddin Shah, Durga Das Lahiri and Upendranath Bhattacharya collected Pagla Kanai's songs and conducted research on the bard.
The legendary Baul passed away in July 1889.
On the inaugural day, lathi khela and spiritual songs were performed here. On the concluding day of celebrations, children of different institutions took part in a painting competition. A competition was also held on Kobi Gaan. A cultural programme was held on the day.
Aulad Hossain, a descendent of Pagla Kanai said, "We are elated that the local administration has taken adequate steps to celebrate his birth anniversary on a large scale." He added that a statue of Pagla Kanai, commemorating the mystic bard, was unveiled recently.