A walk down Bollywood Lane with Asha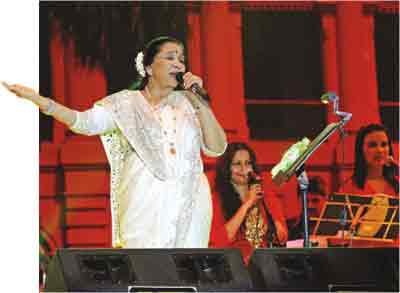 It was a star-studded affair. Some of the most prominent stars of Bangladesh turned up at the Army Stadium in Dhaka on March 9, 2012. Well-known personalities in the fields of music, films, television, fashion etc. had all gathered to watch and listen to the South Asian music icon, Asha Bhosle.
A unique presentation by City Bank; organised by MACOMM and sponsored by Icon, Coca Cola, the concert titled "Eternal Asha" began a little before 8 pm in the evening. Radio Today and ntv were the media partners.
While the audience was settling down in the stadium, Indian singer Sudesh Bhonsle decided to warm up the ambiance with a few numbers -- "Meri Mehbub", "Yeh Jo Mohabbat Hai", "Inteha Ho Gayi Intezaar Ki" and much more. A group of at least 12 musicians had joined him, along with a three-member choir consisting of female vocalists. Not only did Sudesh hold sway over the audience with his songs, but also amused them with a few jokes and mimicked famous actors, like Amitabh Bachchan.
As Asha Bhosle stepped on the stage at around 8:30 pm, everyone in the stadium gave her a standing ovation. With classics like "O Mere Sona", "Pyar Karne Wale", "Raat Baaki Baat Baaki", "Yeh Mera Dil", "Chura Liya", "Do Lafzon Ki Hai", she got everyone to sing along with her. Despite the fact that one of the monitors on stage was not cooperating, it was quite amusing to hear her speak -- in a mix of Bengali, Hindi and her mother tongue Marathi, asking her sound engineer to do something about it.
"I want to learn Bengali and speak in the language!" -- she exclaimed at one point. "But no one will teach me!" -- she said, indicating to a Bengali friend sitting in the audience.
The turning point of the evening was when internationally acclaimed Bangladeshi diva Runa Laila took the stage to welcome Asha Bhosle with flowers. Runa Laila suggested that they sing her famous song "Damamdam Mast Qalandar". As the musicians jammed to the song, Bhosle claimed that this was the first time Runa Laila and she were singing together on stage. "This is a symbol of friendship between our countries," the veteran artiste said.
At the ripe age of 79, Asha Bhosle showcased her indomitable energy and spirit, especially when she did a small session of mimicking other legendary singers like Noorjehan, Ghulam Ali Khan, Lata Mangeshkar and Pandit Jasraj.
"I will return whenever you want me to!" -- said Bhosle when Runa Laila asked her when she would come back to Bangladesh. "Would you perform for us again tomorrow?" -- asked Laila, to which the older singer said, "Of course! I love Bangladesh!"
The show went on till 11 pm with more songs and duets sung by Asha Bhosle and Sudesh Bhonsle.
Elita Karim is Editor of Star Campus.