CanCham awards four companies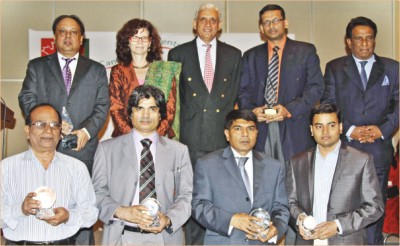 The Canada Bangladesh Chamber of Commerce and Industry (CanCham) yesterday awarded four companies for promoting bilateral trade between the two counties and practising eco-friendly business models.
CanCham Bangladesh in association with Canadian High Commission in Dhaka presented the accolade styled 'Canada Business Awards 2012' at Radisson Hotel in the city.
The four are Bata Shoe Company (Bangladesh) Ltd, Saskatchewan Pulse Growers, City Group of Companies and Infrastructure Development Company Ltd (IDCOL).
Bata got the award as "Canada's most sustained investor in Bangladesh" as the shoemaker is playing a pivotal role in developing Bangladesh's leather industry and practising eco-friendly business models.
Saskatchewan Pulse Growers, a representative body of 18,000 pulse farmers in Canada, got the award as "Bangladesh's most preferred business partner from Canada" for exporting quality foodgrains such as lentils, peas and chickpeas to Bangladesh.
City Group won the award as "Canada's most preferred business partner from Bangladesh". The company has been importing Canadian agricultural commodities such as wheat, canola and yellow peas for more than 25 years.
Last year, the Group imported agro commodities worth $168.90 million.
State-owned IDCOL got the accolade in the category -- The Green Company of Bangladesh -- for promoting solar power in the off-grid areas of Bangladesh.
The company has already installed a total of 1.02 million solar home systems till December last year, which has reduced consumption of kerosene by more than 97 million litres, thus saving Tk 473 crore each year.
Masud Rahman, president of CanCham Bangladesh, said they want to encourage the business communities of both the countries to further increase two-way trade and investments.
Heather Cruden, Canadian high commissioner to Bangladesh, said: "We have a long and established relationship with Bangladesh as this year is the 40th year of our diplomatic relationship with the country."
She said, this relationship has traditionally been based on a strong development partnership.
"Our relationship, however, is today far from being purely 'development' based."
The envoy said the amount of trade between Canada and Bangladesh crossed $1.6 billion in 2011, which was $628 million in 2006.
The value of two-way merchandise trade is expected to cross $2 billion this year, she added.
Gowher Rizvi, foreign affairs adviser to the prime minister, urged the Canadian companies to invest more in Bangladesh.