Congrats, communications minister!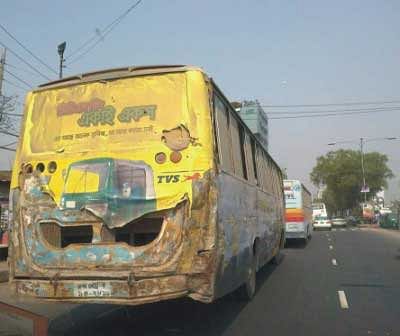 The other day at Gajipur, our communications minister said to the Awami League activists, "Please don't call me to the stage. Let me be on the road and work." Very praiseworthy statement from a minister. This is what the countrymen as well as the commuters wanted to listen and now they want to see him working hard on the road to ease the sufferings of the commuters.
A couple of days back, I was going past a bus which really horrified me. It seems that it has been out of order for the last thirty years but the fact is that it is proudly plying through the roads of the capital city before the very nose of the traffic police.
How did this bus manage to have the fitness certificate to run on the road? And there are hundreds of buses plying the city just like this one. Now, what can be done? As a city dweller, I have a humble request to him which he may consider implementing. All the buses that have no tail lights, no side lights, no rear-view mirrors and that has crushed victims should be given a fixed time e.g. 15 days to complete overhauling and repairs done before they are again pressed into service.. After the stipulated time, the BRTA authorities along with the traffic police will launch mobile courts to check it. If a bus has not yet been repaired, it will be spot fined a big amount, say about Tk 100,000.
I strongly believe our Communications Minister has got the courage to implement this idea which will cut down the number of road accidents. At last, I pray for him to the Almighty so that he can accomplish all his benevolent attempts for the commuters.