High-rises defy building code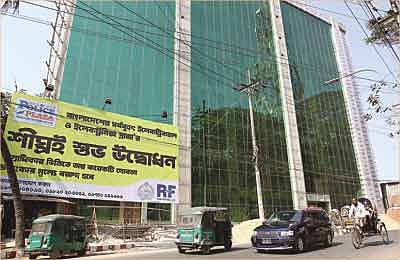 Most of the high-rise buildings are being constructed defying building code in the port city.
The real estate companies are constructing the high-rises without approval from the Department of Environment (DoE), Fire Service and Civil Defence, Chittagong Development Authority (CDA) and other concerned authorities.
The experts related with the sector fear that the buildings will smash down if an earthquake measuring 7.5 on the Richter scale strikes the port city.
The risky high-rise buildings have been built in Halishahar residential area , Khulshi residential area, Sugandha residential area, Surson Road, Chatteshwary Road, Bahadarhat area, Basundara residential area, Nasirabad Abasik, Agrabad, Bahadarhat, Al Falah Gali, Port Connecting Road, Muradpur, Nasirabad, Kazir Dewri, Colonel Hat, Sirajuddaula Road, CDA residential area and GEC intersection and Dewan Bazar.
DoE sources said the land developers and apartment entrepreneurs are constructing the multi-storey buildings violating the building codes with the help of corrupt officials of CDA, sources added.
According to Bangladesh Building Construction Act, it is obligatory to keep a 25-foot-space between an eight-storey building and the road in front of it while it must be at least 15 feet for six-storey buildings. Each building must be constructed 4.5 metres away from middle of the road.
Moreover, for constructing an eight-storey building concurrences from Fire Brigade, DoE, Wasa, gas and power authorities are mandatory. Keeping fire and smoke detectors, high power water spray system and carbon dioxide reducing system are also necessary for a high-rise, according to the building code that are not being followed.
CDA sources said over 1.82 lakh buildings have been constructed in the port city without following building codes. Besides, some developers are constructing the high-rises changing the design approved by CDA.
The CDA in a recent drive in the port city found violations of building code in the high-rises constructed by 27 developer companies.
CDA Chairman Abdus Salam expressed anger over the issue of hill cutting at a conference.
He said CDA would take action against the companies that are building high-rises violating rules.
DoE Director Jafar Alam said many developers start their construction works without clearance from the department while many come for taking clearance after starting their construction works. DoE can not take action against the violators for lack of adequate manpower, he said.
Former CDA chief engineer Iqbal Hossain said the CDA can stop the construction of developer companies or the land grabbers for violating building codes.
The constructions would bring hazard and misfortune to the city dwellers if an earthquake measuring 7 or 7.5 on the Richter scale strikes the city, said Prof Dr Jahangir Alam of Chittagong University of Engineering and Technology.