Novo Nordisk launches new diabetes drug in Bangladesh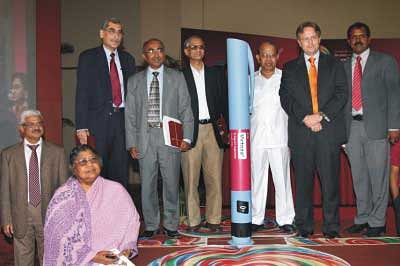 Novo Nordisk, one of the world's leading companies in diabetes care, yesterday launched its novel type 2 diabetes drug Victoza in Bangladesh.
Victoza, a once-daily liraglutide injection, has been proven to lower blood sugar levels, reduce body weight, lower systolic blood pressure, and shows improvements in measurements of beta cell function.
It comes at a time when the number of diabetic population is increasing in Bangladesh at an alarming rate due to changes in lifestyle, obesity, lack of physical work and ageing of people.
At present, the diabetic population number in the country is 8.4 million, which is expected to double by 2030, according to International Diabetes Federation.
Victoza was developed for the treatment of type 2 diabetes in adults, and is indicated in people with insufficient glycaemic control despite maximal tolerated dose of monotherapy with metformin or sulphonylurea.
"Our goal for the development of Victoza was to find the best way to help people with type 2 diabetes maintain control over their glucose levels with reduced risk of hypoglycaemia," said Sanjeev Shishoo, vice president of Novo Nordisk Oceania and South East Asia region.
Shishoo spoke at the launch at Ruposhi Bangla Hotel in Dhaka.
With Liraglutide, patients with type 2 diabetes can be confident that they are controlling their blood sugar, and may benefit from weight loss, said Prof AK Azad Khan, president of Diabetic Association of Bangladesh.
The drug offers a treatment option by effectively reducing blood sugar levels and weight with a low risk of hypoglycemia, said Prof Hajera Mahtab, Professor Emeritus and chief medicine consultant of Bangladesh Institute of Health Sciences.
The benefits associated with Victoza will help more people with type 2 diabetes in Bangladesh achieve better control of their disease, she said.
"Victoza is an important new addition to the portfolio designed to support our mission to defeat diabetes, and we are proud to make this product available to patients in Bangladesh," said A Rajan Kumar, managing director of Novo Nordisk Pharma (Pvt) Ltd in Bangladesh.
He said the drug is already available and is in use for treatment of type 2 diabetes patients in 43 countries.
The price of a drug package is Tk 7,800. Depending on the blood sugar level, a patient will be able to use the drug for 10 days to a month, said Kumar.
The Directorate General of Drug Administration of Bangladesh approved Victoza for type 2 diabetes in April last year. It has already been approved by the European Commission and the US.
Headquartered in Denmark, Novo Nordisk is a global healthcare company with 88 years of innovation and leadership in diabetes care. It employs about 31,400 employees in 74 countries, and markets its products in 179 countries.
Novo Nordisk enjoys more than 80 percent share in the insulin segment of diabetic care market in Bangladesh.
Svend Olling, ambassador of Denmark in Bangladesh, and Zafar Ahmed Latif and Md Faruque Pathan, both professors of endocrinology at BIRDEM, also spoke.
Transcom Distribution Company Ltd is the local agent of the Danish insulin giant.