Traffic jam polluting air
WB study says 20pc pollution-cut can save up to 3,500 deaths, avert 230m cases of respiratory diseases a year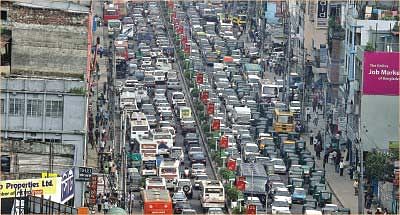 Traffic congestion in the capital and smoke from brick kilns are the main reasons for air pollution in Dhaka city, according to the World Bank and the Bangladesh government.
The Ministry of Environment and Forests says that vehicles in Dhaka move 14kmph on an average, which is very slow and causes them to burn more fuel and contribute to air pollution. They say the average speed could come down to 4kmph by 2025 if things do not improve.
The ministry thinks if pollution can be reduced by 20 percent, at least 1,200 to 3,500 lives can be saved and 80 to 230 million cases of respiratory diseases can be averted each year.
A website (www.case-moef.gov.bd) of the ministry has mentioned this data. The web page is of a government project called Clean Air and Sustainable Environment (CASE), set up with the support of the World Bank to reduce the capital's smog, produced by brick kilns and vehicles, which has been steadily increasing in recent years. The World Bank and Bangladesh jointly conducted a Country Environmental Assessment and came up with the data.
The website says that if air pollution is reduced by 20 percent, it would also save $170 to 500 million in healthcare costs and increase the productivity of city dwellers.
Department of Environment officials said faulty vehicles, smoke from brick kilns, dust from construction sites and toxic fumes from industries are the main sources of particulate matter. According to environment officials who conducted a pre-study before the joint assessment for CASE, around 60 percent of city air pollution is caused by thousands of unfit and faulty vehicles, especially those that run on diesel. They say vehicles older than 20 years could not be taken off the city streets. These vehicles add to city traffic, congestion and air pollution.
According to sources at the Department of Environment, the density of airborne particulate matter is around 250 micrograms per cubic metre in Dhaka, which is five times the acceptable level of 50 set by the National Ambient Air Quality Standard of Bangladesh.
The CASE website notes that Dhaka air consists of common pollutants, including particulate matter, sulphur dioxide (SO2), carbon monoxide (CO), nitrogen oxides (NOx), ground-level ozone (O3), volatile organic compounds, hydrogen sulphide (H2S), sulphates and nitrates.
Additional air pollutants of concern include toxic metals (lead, mercury, manganese, arsenic and nickel), benzene, formaldehyde, polychlorinated biphenyls (PCB), dioxins, and other persistent organic compounds, the web content add.
Dhaka is surrounded by brick kilns which have been contributing to the capital's air pollution.
The Clean Air and Sustainable Environment project has a brick kiln component which aims to usher in a new era in brick manufacturing in Bangladesh.
Under the project, the Department of Environment will work towards changing the institutional, legal and regulatory framework. To that effect, the project will provide technical support to the newly established Brick Advisory Committee in an effort to make the industry green.
The project also aims at developing a long-term strategic policy framework for the brick industry that will include a strengthening of laws and regulations. The adoption of cleaner technologies and practices will be promoted among the brick enterprises through demonstration projects and awareness campaigns.
A study, Environmental Performance Index 2012, conducted by the US universities Yale and Columbia, found Dhaka to be the 31st most polluted city out of 132 cities across the world.