Still Going Strong
Humayun Ahmed books at the Boi Mela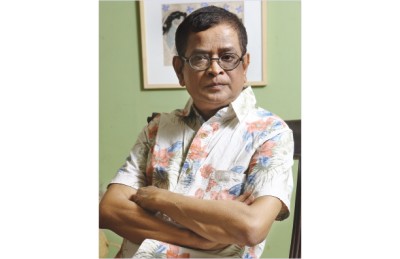 Humayun Ahmed occupies a prominent place in Bangladeshi literature, garnering admiration from countless readers during a career that has spanned nearly 40 years. Although the author is now undergoing medical treatment in the USA, several of his books are available at the ongoing Ekushey book fair.
On the opening day, Anya Prokash published his novel "Megher Opor Bari", as well as a memoir, titled "Rong Pencil". On the sixth day of the fair, Anya Prokash also published the latest in the Himu series, "Himu Ebong Harvard Ph.D Boltu Bhai". The stall ran out of two editions of the book in one day. Masum Rahman, one of the directors of Anya Prokash, said that with the writer's absence at this year's Ekushey book fair, his popularity seems to have drawn a larger crowd.
Like several others, Sifat, a student of Bangla department of Dhaka University, was buying the new Himu book. He said that it was only this book that drew him to the fair. The popularity of the Himu persona was also evident at the venue, as both the booksellers and several buyers were seen wearing the trademark yellow panjabi that Himu wears.
Misir Ali is another series that always stirs up enthusiasm among readers. But AnyA Prokash director Masum Rahman could not confirm whether there will be a new Misir Ali book this year. However, he added that the publishing house will soon bring out Humayun Ahmed's autobiographical book, "New York-er Shonali Akashe Jhokjhoke Roud" -- which will contain articles that were published in the daily Prothom Alo. Curiosity about the book is running high, Masum Rahman said, adding that a travelogue, titled "Payer Tolae Khorom" will also be published.
Sources from Anya Prokash informed that Humayun Ahmed is currently writing "Deyal" -- a novel on the life of Bangabandhu -- which will also be launched during the fair. Anya Prokash will remain the sole publisher for Humayun Ahmed books at the fair, but another house may publish a book, titled "Dar Kaak-er Shongshar" near the end of the fair. The edition of last year's "Badhsah Naamdar" has already been published, while a compilation of Humayun Ahmed novels and short stories will also be published.
The author -- whose pen covers short stories, novels and mysteries -- is undergoing cancer treatment in the US, but he continues to quench the thirst of his readers with his latest books.
Humayun Ahmed won the Bangla Academy award, Ekushey Padak and countless other honours as recognition for his contribution to literature. His first two novels -- "Nondito Noroke" and "Shonkhonil Karagar" -- gave him fame, while his other notable works include "Jochhna O Jononir Golpo", "Kothao Keu Nei", "Eishob Dinratri", "Badshah Naamdar", "Lilaboti", "Kobi", "Moddhanho" and many titles under the Himu and Misir Ali series.