Vitamin-A rich rice gets nod
Govt allows trial production in Bangladesh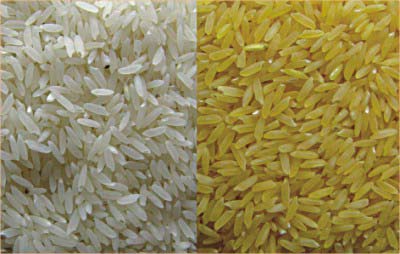 The government has allowed import of vitamin A-enriched transgenic rice seeds for research and trial production.
The state-run Bangladesh Rice Research Institute (BRRI) late last month got the approval for procuring seeds of the transgenic rice, popularly known as "Golden Rice", for its first-ever trial production in the country.
Something is described as transgenic when genes from a different species transferred to a plant or animal using genetic engineering technique to increase its vigour.
Contacted yesterday, sources at the BRRI, and agriculture and environment ministries said the government gave the go-ahead in response to the research institute's request made in April last year.
Golden Rice, widely acclaimed for its perceived potential to fight vitamin A deficiency in expecting mothers and children, is now set to go through greenhouse trials and field tests before advancing into production phase. Vitamin A deficiency causes blindness and child death in acute cases.
According to the World Health Organisation's global database on vitamin A deficiency, one in every five pre-school children in Bangladesh is vitamin A-deficient, and 23.7 percent of pregnant women are affected by vitamin A deficiency.
BRRI Principal Plant Breeder Dr Alamgir Hossain told this correspondent, "After getting government approval, we have already asked for seeds from the International Rice Research Institute (IRRI) in the Philippines. Expectantly, we will be getting the seeds soon and go for trial production of the Golden Rice in transgenic greenhouse at BRRI by next week."
Once the greenhouse trial succeeds, he said, BRRI will go for trial in the open field under controlled-environment on its campus.
Dr Alamgir said once released commercially, consumption of only 150 gram of Golden Rice a day will supply half of the recommended daily allowance (RDA) of vitamin A for an adult. This is expected to revolutionise fighting vitamin A-deficiency in the mostly rice-eating Asian countries where the poor have limited access to vitamin A sources other than rice.
Bangladesh's most productive rice variety -- BRRI Dhan-29 -- along with an IRRI variety IR-64 and a Filipino variety RC-28 have gone through the process in which these were genetically engineered to have greater expressions of corn gene responsible for producing beta carotene, a source of vitamin A.
And in February last year, trials on the Los Banios campus in the Philippines, IRRI got good results from these Golden Rice varieties including the transgenic BRRI Dhan-29.
Sources said there have been months of wrangling over biosafety concerns about conducting trial of transgenic rice. Though the BRRI plea for the trial got almost immediate approval from the agriculture ministry, the go-ahead came from the environment ministry only last month.
In agriculture, biosafety refers to measures taken to reduce the risk of bacterial contamination of food and its containing any unwanted spread or mix-up of alien genes.
Talking to The Daily Star yesterday, Agriculture Minister Matia Chowdhury said the government is open to application of biotechnology in agriculture sector. "We've no objection to such trials with biosafety issues well taken care of."
The transgenic technology in rice was first applied by Prof Ingo Potrykus, then at the Institute for Plant Sciences of the Swiss Federal Institute of Technology, and Prof Peter Beyer of the University of Freiburg, Germany. Their insertion of beta carotene-enriched gene from daffodil to rice caught world attention back in late '90s, and the rice became known as Golden Rice.
After years of scientific research and experiments, IRRI found it more rewarding to transfer the beta carotene gene to rice from corn than daffodil.
On April 13 last year Seattle-based Bill and Melinda Gates Foundation sanctioned a grant of over $10 million to IRRI to fund, develop and evaluate Golden Rice varieties for Bangladesh and the Philippines. The Foundation expects that Golden Rice variety of BRRI Dhan-29 will be ready for regulatory approval by 2015.
Alamgir, who had worked with former IRRI biotechnologist Swapan K Datta, however, said, "We will be able to make our home-grown Golden Rice ready for seeking approval much ahead of 2015 if the government, particularly the regulators, take a pro-active role in finishing the safety trial processes quickly."
Bangladesh-born researcher Swapan was the first to infuse daffodil's beta carotene-producing gene into BRRI Dhan-29 nearly 10 years back.
IRRI and Gates Foundation officials, contacted through e-mail, confirmed that as the Golden Rice inventors and subsequent technology developer Syngenta allowed a royalty-free access to the patents, the new rice when released for commercial farming in Bangladesh will be of the same price as other rice, and farmers will be able to share and replant the seeds as they wish.