Amar Ekushey Boi Mela
Children's corner abuzz with visitors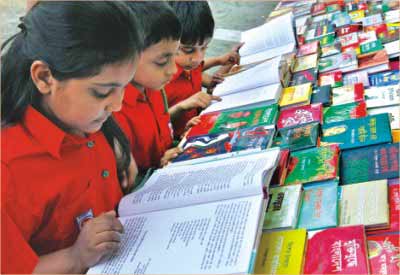 Holding on to her mother, six-year-old Humaira Ahmed was browsing around the Children's Corner on the Amar Ekushey Boi Mela premises to find books of her choice yesterday.
She loves to read ghost stories, comics and stories illustrated with cartoons, pictures. It was the second year Humaira, a class-I student of a kindergarten from city's Mohakhali, was visiting the book fair.
Her mother Suborna did have a little hurdle to get to the favourites of her daughter, as around 30 stalls were displaying books for kids at the Children's Corner.
Visits to a couple of stalls were enough. Humaira had her favourite reads and collected four of them--two comics on Tom and Jerry and two ghost story books.
Murshiduddin Anwar, deputy director of Bangla Academy, said, "We dedicated the corner for children's books so that parents do not have difficulties in collecting books for their kids".
Mojiran, a seller at Brac publication, said it is selling a good number of children's books everyday. Books containing comic strips and vibrant pictures usually attract the young readers, she added.
Some parents, however, expressed concern over the quality and contents of the new books available for children.
"Most of the books are based on foreign cartoon characters like Tom and Jerry, Superman, and Spiderman and computer games", said a disappointed mother, Lira.
"There are hardly any book in the corner which reflects our own culture and local characters".
Parents should be careful to collect books for their children, she said, adding that the books which are to teach children morality as well as the history and culture of Bangladesh should be preferred.
"It is the moral responsibility of publishers what kind of content they will bring for children", said Deputy Director Anwar. "They should show sincerity before publishing the books of cartoon characters and foreign comics for children".
Alongside books, another attraction awaits kids in the Children's Corner--a group of stalls bringing CDs of Bangla and English rhymes with animation and playing those on computers to draw attention of children.
The young visitors could not help but jump with joy in the corner as the melodies of their favourite rhymes like "Twinkle Twinkle Little Star" flew into their ears from the stalls.
Yesterday the fair drew more crowds of booklovers, as it was the second day of the two-day weekend. As on the previous day, dust caused suffering to the visitors in the evening.
A total of 133 new books arrived at the month-long festival yesterday.