Spoonbill Sandpiper: Critically endangered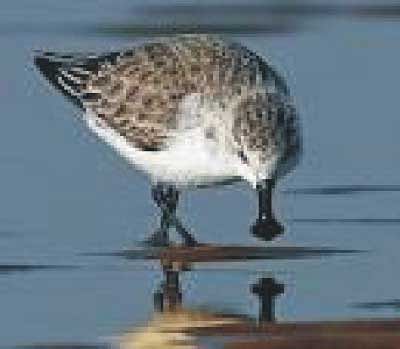 Spoonbill Sandpiper is an attractive little bird with a distinctive spoon-shaped bill, this sandpiper has winter plummage as pretty as its breeding colours. Non-breeding adults have pale brown-grey upperparts, with a white trim around each feather. The underparts are white and lack the colours seen in breeding adults, which have a russet red head, neck and breast streaked with brown, and dark upperparts with pale brown and red edging to the feathers. It calls quietly with a 'preeep' and a 'wheeet' .
This charismatic species is listed as Critically Endangered (RDB-IUCN/BLI) because it has an extremely small population which is undergoing an extremely rapid population reduction. This is because of a number of factors, including habitat loss in its breeding, passage and wintering grounds, which is compounded by disturbance, hunting and the effects of climate change. Fledging success and juvenile recruitment are very low, leading to fears that the population is ageing rapidly; action is now urgently required to prevent the extinction of this species. surveys on the breeding grounds of Spoon-billed Sandpiper Eurynorhynchus pygmeus show that the species has declined extremely rapidly from an estimated 2,0002,800 pairs in the 1970s to perhaps fewer than 100 pairs in 2007.
Dr. Anisuzzaman Khan