20 hurt in slum eviction clash
BLAST lawyers picked up, later freed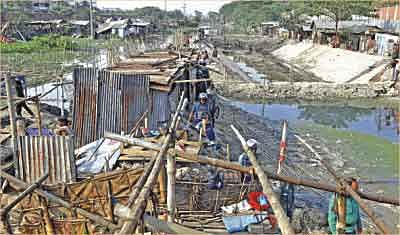 At least 20 people were injured after dwellers of Anandanagar slum in the city's Mirpur 14 clashed with police and National Housing Authority (NHA) employees, carrying out an eviction drive yesterday.
NHA demolished over 300 makeshift structures while police detained two lawyers of Bangladesh Legal Aid and Services Trust (BLAST), a human rights organisation, charged baton and fired teargas canisters to disperse the crowd.
The lawyers, advocates Sheikh Rashed and Shihab Siraji, were released in the afternoon after a High Court directive.
Those evicted said they started throwing brickbats when their valuables were being looted. Rahima Begum, 50, one of the dwellers, said they could not change their 20-year-old residence due to the high rate of rent charged elsewhere.
The HC in December 2011 halted the eviction till January 31, 2012. But the dwellers did not comply with NHA's request to shift residence during this time, said NHA Magistrate AKM Tipu Sultan.
He claimed to have directed police to take the lawyers away from the spot during the clashes for their own safety.
Barrister Sara Hossain of BLAST said the lawyers went there to show the authorities a lawyer's certificate on their appeal scheduled for a Supreme Court hearing on February 23.
The appeal is against an HC order telling the dwellers to leave after January 31, she said.
Sara Hossain yesterday told the HC bench of Justice AHM Shamsuddin Choudhury Manik and Justice Jahangir Hossain Selim that the lawyers were detained without any arrest warrant or case.
Deputy Attorney General ABM Altaf Hossain said, after the HC informed him in this regard, he informed police, who released the duo.