Saarc moves ahead for economic union
Finance ministers' meeting decides to introduce liquidity support for members to fight global economic meltdown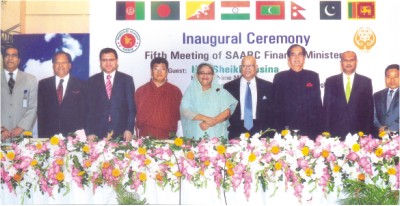 Saarc has agreed to open a liquidity-swap window to provide financial support to its members in times of global economic volatility, Finance Minister AMA Muhith said yesterday.
"It will make transactions among the member countries much easier," Muhith said in a press briefing after the fifth meeting of Saarc (South Asian Association for Regional Cooperation) finance ministers at Ruposhi Bangla Hotel in Dhaka.
The liquidity swap is a type of currency swap used by a country's central bank to provide liquidity to another country's central bank.
Under the arrangement member countries will do business and settle payments after a certain period, which the minister said may be six months. "Swap is likely to be implemented next year."
The liquidity swap was proposed by India, the minister said.
Significant progress had been made at the meeting towards forming South Asian Economic Union, Muhith said.
The objective of the Saarc finance ministers' forum was to establish a full economic union. The Saarc finance ministers discussed many issues that include coordination in fiscal and monetary policies, joint monitoring of exchange rates and commodity prices and an increase in intraregional trade.
Bangladesh has proposed that the finance ministers sit twice a year to discuss fiscal and monetary policy coordination and other macroeconomic issues so they can get an early warning.
The finance ministers felt South Asia that had been immune to the 2007-08 global economic crisis would take a hit from the second recession, Muhith said.
"There is a need to initiate effective and coordinated actions in monetary and fiscal policies to avoid possible risks," he said.
He emphasised the need for developing a regional coordinated surveillance mechanism to forecast the fallout of external shocks.
The Saarc finance ministers' forum was established in 2005 with an objective to go for South Asian Union. The ministers sit once a year, after Saarc Summit. Finance secretaries of the member nations sit one day before the ministers' meeting to make recommendations for them.
The secretary-level meeting this time has recommended establishing a regional development bank and a fund where the members and donors will contribute. The finance secretaries also forwarded a proposal for promotion and protection of investment among the Saarc members.
"Saarc Development Fund is already in place. In the long run this fund will be converted into a regional development bank," said Mohammad Tareque, finance secretary of Bangladesh.
Prime Minister Sheikh Hasina inaugurated the ministerial meeting.