Lanka to follow Aussies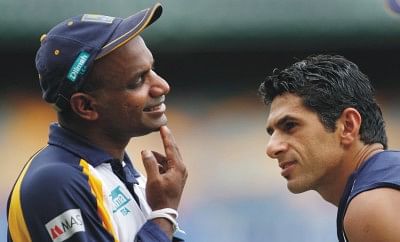 Sri Lanka captain Mahela Jayawardene said his team were looking to copy India and take the attack to Australia on their own turf during the triangular one-day Commonwealth Bank cricket series.
Sri Lanka play their first game in the tournament when they take on India at the Gabba here Tuesday, weather permitting.
If Australia fail to make the finals, the Sri Lankans will overtake them at the top of the one-day rankings.
"We are heading into the right direction," Jayawardene said.
The skipper said his side had looked at how India had taken the game to the Australians in recent clashes.
"India showed after all the mishaps they got together and performed really well -- that's the way forward for other teams (against Australia)," he said.
"You just block everything out -- that's our attitude.
"That's the way you can actually challenge these guys (Australia) on the field."
Sri Lanka were given a boost Monday when scans cleared veteran opener Sanath Jayasuriya of a jaw injury after he was hit in the face while batting against Tasmania in a tour match.
Jayawardene laughed off an incident in Hobart in which spinner Muttiah Muralidaran and team officials had eggs and abuse thrown at them by a group of drunks.
"It was near traffic lights and he (Muralidaran) said 'lucky for them it was green because I would have chased them down,'" Jayawardene said.
"If he had a stone thrown at him he would have thrown it back at the car.
"But by the time he realised it was an egg, the car had gone.
"He laughed it off. That's Murali. The guy has gone through tougher things than eggs being thrown -- it's not a big deal."
Australia, India and Sri Lanka will each play eight preliminary matches before the best-of-three finals in Sydney (March 2), Brisbane (March 4) and Adelaide (March 7, if required).
The first match in the triangular series, between the hosts and India, at the Gabba, was abandoned Sunday.