High cost of business weighs on steel millers
Sector leaders point to high interest rates, weakening taka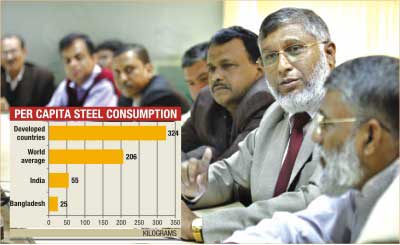 After a decade of steady growth, local steelmakers are now facing tough times for a surge in production costs and a slowdown in consumption by both the government and private sector.
In addition, a low pressure of gas, depreciation of the taka, rising costs of raw materials and bank borrowing, and a tight liquidity situation have hurt the Tk 30,000 crore-industry in recent months, manufacturers said.
"We're passing through a critical time. It seems there is nobody in the government to look into our issues," said SK Masadul Alam Masud, chairman of Bangladesh Auto Re-Rolling and Steel Mills Association.
Masud said the cost of producing a tonne of 60-grade rod has increased by Tk 18,000 between January 2011 and January 2012, mainly because of depreciation of the taka against the dollar. Steelmakers import at least 70 percent of raw materials.
The latest move on withdrawal of the upper cap on bank lending rates has also pushed production costs up.
Masud spoke at a meeting with The Daily Star yesterday as part of the newspaper's weekly business talks at its office. Leaders of Bangladesh Steel Mill Owners Association, Bangladesh Re-Rolling Mills Association and Bangladesh Auto Re-Rolling and Steel Mills Association took part in the discussion.
Mahfuz Anam, editor and publisher of The Daily Star, delivered an introductory speech.
Steel is an important indicator when it comes to infrastructure development. According to manufacturers, Bangladesh consumes 40 lakh tonnes of steel a year and if it is divided by 16 crore people, per person consumption stands at only 25 kilograms, which is less than half of a person in India.
Even India lags behind international standards in per person steel consumption that was just 55 kilograms at the end of 2010. The world average was 206 kilograms and it was 324 kilograms in developed nations, according to World Steel Association data.
Bangladesh is an emerging economy and growing at more than 5 percent on average since 1995. Accordingly, a lot of investment has come into the steel sector. Big business conglomerates such as PHP and Abul Khair Group have stepped in to take advantage of growing market demand.
Another big player, BSRM, has also expanded its capacity massively. More than 400 steel mills of different categories and sizes are in the country and their combined capacity now stands at 80 lakh tonnes.
Although the global economy is passing through a difficult time, the local manufacturers believe the steel industry should continue to grow at 10 percent in the next few years, riding on government programmes centring its vision for 2021, a real estate boom in urban areas and an inflow of remittance in rural areas.
But the industry is not growing at that pace, said the business leaders.
"The government accounts for nearly 40 percent of total steel consumption. Consumption has gone down significantly," said the chairman of Bangladesh Auto Re-Rolling and Steel Mills Association.
Though the leaders could not say much on future steel (rod) prices, they hinted that prices would continue to rise in local markets till the taka stops to depreciate. Currently, the price of a tonne of 60-grade rod has risen by Tk 10,000 to Tk 72,000 a tonne.
"The price hike will continue as long as the dollar continues to appreciate," said Md Shahjahan, secretary general of Bangladesh Steel Mill Owners Association.
Abu Bakar Siddique, general secretary of Bangladesh Re-Rolling Mills Association, said: "We're not getting an adequate supply of gas and are being forced to use costly coal and furnace oil to run our factories."
Siddique said Bangladesh has the capacity to export rod to the northeastern states of India, but cannot do so due to non-tariff barriers.
Citing examples of India, Fazlur Rahman Bakul, chairman of Bangladesh Steel Mills Owners Association, said the government should set up a separate ministry for the steel sector to help the sector grow.