Knitwear exporters hit Tokyo focus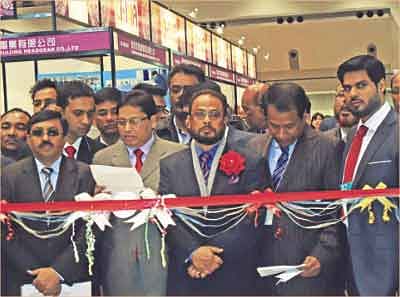 A knitwear exposition of Bangladeshi exporters began yesterday in Tokyo to grab more market share of knitwear products in Japan. A total of 32 knitwear makers from Bangladesh are participating in the show at the Big Sight fashion exhibition venue. The fair will continue till January 27, the organisers said.
Bangladesh Knitwear Manufacturers and Exporters Association (BKMEA) has organised their annual event at the largest fashion exhibition -- Japan Fashion Wear (JFW) and International Fashion Fair (IFF).
Garment makers from different other countries are also attending the JFW-IFF, which is the biggest fashion related gathering in Japan.
The knitwear makers are eyeing to export $2 billion knitwear products a year to Japan within the next five years. Japan is a $12 billion knitwear market, while the total apparel market size of the country is $25 billion a year.
Holding such a fair in Japan is part of the aggressive marketing drive of the knitwear makers, the BKMEA leaders said at the inauguration of the fair.
Bangladesh's Commerce Minister GM Quader opened the show as the chief guest.
The knitwear makers are holding the expo outside the country for the first time considering Japan as an emerging market for them.
The apparel makers said their import to Japan has been maintaining higher growth since 2008 when the Japanese government adopted a "China plus" trade policy to reduce its dependence on the country for outsourcing garments and other items.
Bangladesh exported knitwear products worth $138.48 million during January-November of 2011, registering a 115.28 percent growth, compared to the same period a year ago.
"We are exploring the potential of the Japanese market to brand Bangladesh in this market," said Quader. The knitwear export to Japan is increasing also due to the relaxation in the Rules of Origin (RoO) under the GSP (Generalised System of Preferences) by the Japanese government since April last year, he said.
"We can offer quality garment products to the Japanese customers at competitive prices, while the China is losing its market in Japan due to a change in trade policies," he said.
Hatem Ali, acting president of BKMEA, termed the event as historic, saying, garment exports to Japan will increase further under the GSP.
He said Bangladesh is currently supplying garment items to almost all renowned global brands.
"So, the garment makers of Bangladesh can also supply to the quality-conscious Japanese customers," he said.
Shubhashish Bose, vice-chairman of Export Promotion Bureau (EPB) of Bangladesh, said: "We want to diversify both the markets and products."
"We will hold the next fair in Russia in May this year, as this is also a potential market for Bangladesh," said Aslam Sunny, vice-president of the BKMEA.
He said the knitwear makers have targeted some new markets such as Russia, South Africa, Brazil, Mexico, China and India besides the traditional markets of the EU and US.
Monsoor Ahmed, vice-president of the BKMEA,
also spoke.