Hizb-ut-tahrir
Suspected adviser held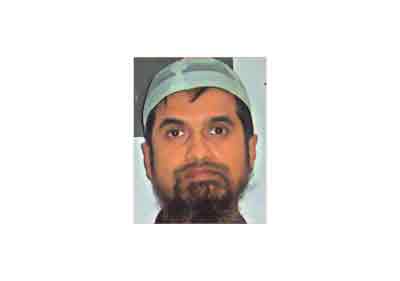 Dr Golam Haider Rasul
A physician of a reputed hospital was arrested from the capital's Uttara in the early hours of yesterday on suspicion of being a policymaker of banned militant Islamist organisation Hizb-ut-Tahrir Bangladesh, said Rapid Action Battalion.
Lt Col Ziaul Ahsan, director of the Rab intelligence wing, said the battalion arrested cardiac surgeon Dr Golam Haider Rasul, 45, a doctor of United Hospital, from his residence in Uttara Sector-3 around 1:30am, and large numbers of leaflets and books of the banned organisation were recovered from his house.
"Haider, who got his MBBS degree from Dhaka Medical College, was maintaining close connections with fugitive Hizb-ut-Tahrir leaders Mawlana Mamunur Rashid, principal of a madrasa in the capital's Mohammadpur, and Dr Towfiq Elahi, a teacher of a prominent private university," said Lt Col Ziaul.
He said Haider is also one of the major donors for Hizb-ut-Tahrir.
Haider's wife and father are also doctors, he added.
"During our preliminary interrogation, Haider admitted that he believes in Hizb-ut-Tahrir's politics," said the Rab's intelligence director, adding, "His father, Dr Golam Rasul, said he himself also supports the organisation."
"Haider is an adviser level leader of the banned organisation, and plays a key role among its policy makers in Bangladesh," Lt Col Ziaul said.
Talking to The Daily Star, Commander M Sohail of Rab's legal and media wing said, "We are trying to find out whether there are more Hizb-ut-Tahrir men in that hospital."
Sources said Haider was arrested following a recent press conference by Bangladesh Army in which it disclosed that there had been an attempt to overthrow the elected democratic government and that Hizb-ut-Tahrir had a link with the attempt.
Lt Col Ziaul said, "There is a long list of top ranking leaders of the banned outfit who are skilled professionals like doctors, engineers, teachers, and successful businessmen."
"Different other militant organisations like Harkat-ul-Jihad Bangladesh, Hizb-ut-Tawhid, Allahar Dal, Jama'atul Mujahideen Bangladesh, and Lashkar-e-Taiba have links with Hizb-ut-Tahrir which is also patronised by some mainstream anti-government political parties," said Ziaul.
In separate drives last week, Rab and police arrested at least 15 Hizb-ut-Tahrir leaders and activists including another doctor, and an IT expert of the Local Government Engineering Department. More than 500 Hizb-ut-Tahrir leaders and activists have been arrested since the organisation was banned in 2009.