Torture for mobile, torchlight, Rs 1,000
Cattle smuggler tells The Daily Star of the abuse by BSF men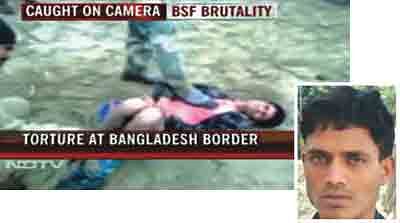 Not having a mobile phone, torchlight and a thousand rupees as bribe almost cost the life of a Bangladeshi who was caught on camera while being tortured by Indian border guards.
Stripping him, the jawans of Border Security Force (BSF) tied his hands and legs and beat him up before dumping his unconscious body in a mustard field near Raninagar camp in Paschimbanga's Murshidabad district.
"When I opened my eyes, I was not sure if I was alive. I lay in the mustard field for a while to pull myself together. Though I was unable to move due to the excessive beating, I forced myself to get up and headed towards home," the victim said.
He estimated that he was about five to seven kilometres inside Indian territory.
Habibur Rahman, 22, son of Saidur Rahman of Sateroroshia village under Shibganj upazila of Chapainawabganj, used to smuggle cattle from India. He had never been caught by the BSF in his one-year stint as a smuggler until December 9 last year, the day he experienced his worst nightmare.
The video footage of the BSF torture that had been aired by different television channels in India, including NDTV, sent shock waves across the nation.
The Daily Star yesterday interviewed Habibur at Monakosha border outpost in Chapainawabganj.
On the morning of December 9, 10-12 men, including Habibur, sneaked into Murshidabad district through Khanpur border in Paba upazila of Rajshahi to fetch some cattle as instructed by a Bangladeshi trader.
"We found no cattle when we reached the rendezvous point. So, we started back for home," said Habibur, adding that it was around 11:00pm when the BSF men caught him with two others.
"They demanded Rs 1,000, a mobile phone and torchlight from me. As I said I did not have those, they started kicking and punching me. But that was only the trailer of what was to happen next. They took me to their camp at Raninagar on a tractor," he said.
Habibur was wearing a lungi, a pink shirt and a jacket.
"The real beating began the next morning," said Habibur, "Two jawans stripped me, tied my hands at the back and to a stick. They also tied my legs. Then they started to beat me with a stick." Habibur still was in shock as he described the BSF brutality.
"As I fell on the ground, three of them indulged in beating me up indiscriminately," said Habibur, failing to hold back his tears.
The video footage of the Indian TV channels and on the website matches the description of the victim.
"At one point, one of them sat on my abdomen and held my feet up while another hit me on the bare sole with a stick. The torture continued for at least an hour," he said, adding that the jawans then dragged him a few yards, pulled him up and asked him to walk on his own.
"But I blacked out and fell down. A few hours later, I found myself lying in a mustard field," the victim said.
He showed the marks of injuries on his face, hands, legs and back.
On his return, Habibur did not dare go to a hospital out of fear of more ordeals. He chose traditional treatment instead.
About his former profession, Habibur said each cattle smuggler got Tk 1,000 for bringing a pair of cattle and one could bring up to six cows on each trip.
Pointing out that the chances of cattle smugglers getting caught were high, he said BSF men let them go in exchange of bribes.
After reports were published in different newspapers and aired on television channels, BGB officials also met the victim yesterday.
"We tracked him at his home in Sateroroshia village," Lt Col Jahangir Hossain, commanding officer of 39 BGB Battalion in Chapainawabganj, told The Daily Star.