Army foils bid to topple govt
Spokesman says a group of 'fanatical' serving, retired officials behind plot; 2 ex-officers arrested; 2 top ranking officers face interrogation; court of enquiry formed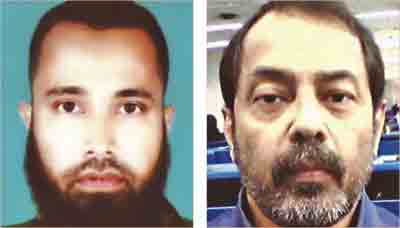 The army has foiled a "coup attempt to overthrow the present democratic government", an army spokesman said yesterday.
A band of religious fanatics, comprising mid-ranking officers and their retired colleagues, was involved in the failed putsch.
At the instigation of some non-resident Bangladeshis, they sought to "disrupt democracy by creating anarchy in the army, cashing in on the fanaticism of others".
Brigadier General Muhammad Mashud Razzaq, director of Personnel Services Directorate, disclosed the information at an unprecedented press briefing at the Army Officers Club in Dhaka cantonment. He was accompanied on the dais by Lieutenant Colonel Muhammad Sazzad Siddique, acting judge advocate general of the army.
Also present were Lt Gen Md Mainul Islam, chief of general staff, and Brig Gen Ridwan-Al-Mahmud, director of Military Intelligence.
Reading out a statement, Mashud said the army had unearthed specific information about some serving officers' involvement in the conspiracy.
"This evil plot has been resisted thanks to sincere efforts by the well-disciplined members of the force," he said adding that some serving and retired officials had already admitted their involvement.
Replying to a query, Brig Gen Mashud said around 14 to 16 mid-level officers were believed to have been involved in the bid.
Two retired officers -- Lieutenant Colonel Ehsan Yusuf and Major Zakir -- have been arrested in connection with the plot and they are now being interrogated. Another plotter, a serving major named Syed Mohammad Ziaul Haque alias Major Zia, has been on the run.
Some undisciplined and disgruntled officers had been involved in the attempt to execute the scheme by staying in contact with Major Zia by email and mobile phone.
To unearth details about the scheme, a court of inquiry was set up on December 28 last year. That court is still in operation, Mashud said, adding that stern action would be taken against the plotters once the investigation was complete.
In the past few weeks, rumours ran rife about tension in the army. This apart, BNP Chairperson Khaleda Zia told a rally in Chittagong on January 9 that army officers had been disappearing.
Meanwhile, army sources at the press briefing said two senior officers have been kept confined at Dhaka cantonment log area for interrogation.
According to the statement read out by Mashud, Ehsan and Zakir were arrested after they confided in two serving officers on December 13 and 31 last year their intent to topple the government and tried to provoke them into joining the bid by ceasing to be loyal to the government.
Informed by the two serving officers, the army authorities arrested Ehsan and Zakir.
On December 22, Major Zia met a serving officer and tried to get him involved in the anti-state plot.
As the officer approached informed his high command about the plot, the authorities telephoned Zia to join the Dhaka cantonment log area by cancelling the leave that he was on after completing training at Military Institute of Science and Technology (MIST). But Zia disobeyed the order and absconded. He is still involved in subversive activities against the army, the statement said.
On January 9 and 10, he sent two "operational orders" to different serving officers through email and wanted to know from like-minded serving and on-study [MIST students] officers about preparations for the overthrow bid. He was relentless in his efforts to influence the officers into executing the plan on January 10.
On the same night, he called a non-resident Bangladeshi named Ishraq Ahmed, possibly living in Hong Kong, and discussed the "developments and execution process of the coup".
Maj Zia told Ishraq to ask local and international media to telecast and publish reports on "the army coup".
Zia had long telephone conversations with some officers at different cantonments, the army sources said. He urged all the officers, some mid-ranking and some junior, to come out of the cantonment with their forces to establish Islamic rule in the country.
At the press briefing, Brig Gen Mashud called upon all to thwart any plot that would harm the army's hard-earned image and said all the members in the army were ready to sacrifice their lives for the country's sovereignty and integrity.
It was not acceptable that any vested quarters, foreign or national, would implement their evil design by using the army, he added.
The army spokesperson also said a newspaper [Daily Amar Desh] on January 3 had published a fabricated story based on Maj Zia's Facebook write-up titled "Mid-level officers of Bangladesh Army are bringing down changes soon" as a motive to create confusion about the security force.
On January 8, the banned fanatical organisation Hizb ut-Tahrir distributed across the country provocative leaflets based on Zia's Facebook post.
The next day, a major political party of the country alleged, in line with the fabricated, misleading and instigating reports, that "even army officers were disappearing", giving rise to unexpected debate in the army and among conscious citizens, added the brigadier general.
Mashud sought the cooperation of all in overcoming the "temporary challenge", and inform the authorities of the whereabouts of Maj Zia.
QUESTIONS & ANSWERS
Asked whether the plot was still on, Mashud said there was an "ill attempt" and the army had "succeeded in stopping it."
Queried what kind of coup attempt it was, he again said it was an ill attempt and in due time the military came to know about it and successfully quelled it through the combined output of command channel and discipline.
On a media report regarding the name of a major general of Comilla Cantonment, Mashud said, "He is now in the Log Area Sadar and staying at his residence with his family." Asked whether he was under house arrest, he said there was no term as 'house arrest' in army law.
Replying to a question on whether any foreign state or force was involved in the coup plot, he said, "We will not brush aside the possibility and the investigation is going on by taking everything into consideration. We cannot say anything specifically before the probe ends."
To a query about the ranks of the officials involved in the failed attempt and if there was any such attempt outside Dhaka cantonment, he said, "I firmly want to say that the number is very, very limited. We have so far learnt that there are mid-level officers and a retired lieutenant colonel involved."
He also said fugitive Zia contacted one or two officials outside Dhaka cantonment over telephone, but "be clear that there was no move or action".
Queried as to whether any steps would be taken against Hizb ut-Tahrir and those talking about "disappearances of the army men", Brig Gen Mashud said if the probe body recommends, action can be taken as per the law of the country.
"We have arrested two and investigation is going on about others whom we cannot arrest without hard evidence. The number is in no way more than 14 and 16," he said replying to another query.
He also said two to three have already admitted their links with that banned Hizb ut-Tahrir.
Asked whether non-resident Bangladeshis would be brought back home for trial if they were found complicit, Mashud said the high government officals had already started the initiative to locate him [Ishraq] and take necessary measures.