MSC's shameful act
Biman's jumbo take-off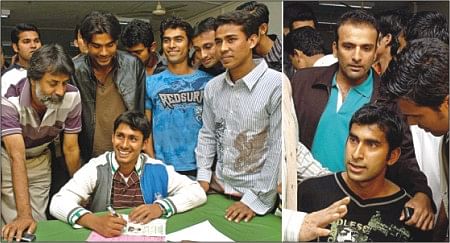 There was no short of excitement on the first day of the three-day inter-club players' transfer for the Premier and First Division Cricket Leagues yesterday, but one incident marred the spirit of the game.
The arrival of the national stars including captain Mohammad Ashraful and his deputy Mashrafe Bin Mortaza sparked Bangabandhu National Stadium to life in the opening day but a shameful act of a Mohammedan Sporting Club (MSC) official spoiled the whole party and the gentleman's game took a backseat for a while.
It could have been a completely wonderful day for Mohammedan as they not only signed ace batsman Ashraful but also won a last minute battle against their traditional rivals Abahani over the inclusion of national left-arm spinner Abdur Razzak. However, in the end, the popular club's reputation was heavily damaged by a disgraceful act.
It was nothing new in the players' bourse for the clubs officials hurling filthy words and getting involved in heated exchange but this was for the first time in the history of Bangladesh cricket that a player was physically assaulted.
Promising left-arm spinner Mosharraf Hossain, who is knocking on the national team's door, was a victim of the shameful incident as he was slapped by a Mohammedan official in the stadium's ground floor corridor when he was coming along with other colleagues to sign for Biman.
"I have no words to express what happened today because it's beyond my imagination," said the soft-spoken Mosharraf, also a Dhaka University student, with tears in his eyes.
Everyone was taken aback by the episode and hottest property of the bourse Mashrafe, who made the last appearance before close of shop, was no exception.
"It's really hard to believe that a player was physically assaulted. It's a shame for everybody," said Mashrafe, who is believed to be the highest paid cricketer for the second successive season.
Biman officials however could not identify the man behind the odious act.
"A Mohammedan official stopped (left-arm spinner) Nabil (Samad) in the corridor and immediately started to harass him physically and Rubel (Mosharraf), trying to protect his colleague was assaulted," Ahmed Fayez Shaheen, a Biman official, said while describing the incident.
"Mohammedan told me yesterday to join them but what I told them was that it would be only possible to join them was for Biman to give me the green signal when I already made commitment to them," said young spinner Nabil while explaining his side of the story.
Biman officials however said that they would launch an official complaint against Mohammedan's scandalous act, which was also condemned by Cricketers Welfare Association of Bangladesh (CWAB).
Beside this sad incident, Biman hogged the spotlight in terms of trading quality players.
The national flag carrier, in their attempt to regain the title, not only fulfilled the pool quota by including Mashrafe, Javed Omar and young sensation Tamim Iqbal but also traded some quality players like Alok Kapali, Nafis Iqbal and Mosharraf.
"Money played the vital role behind my change of the tent from Abahani to Biman but there were also some other reasons behind the decision. I think Biman has a good chance to become champions," said Mashrafe.
On the other hand, Moham-medan's new captain Ashraful also believe that they have made a balanced squad for championship fight.
"It's for the first time in my career that I signed for one of the popular teams. But as a professional cricketer, I have no special feeling about the issue because the scenario was much more changed in the last couple of years," said Ashraful.
"In this day, money matters," he added.
For the last few years Old DOHS and Sonargaon Cricketers hogged the limelight but they completed their job almost silently yesterday as everything was changed after the 1/11 episode.
In a late development, promoters Surjo Tarun roped in former national captain Habibul Bashar. The country's leading Test run-getter agreed in principle to join the Dhanmondi-based club and is expected to put pen to paper tomorrow.
City Club, Partex Sporting Club and Young Pegasus also took part in the first day bourse.