Go for capital goods industry
An NRB expert says how Bangladesh can advance in industrialisation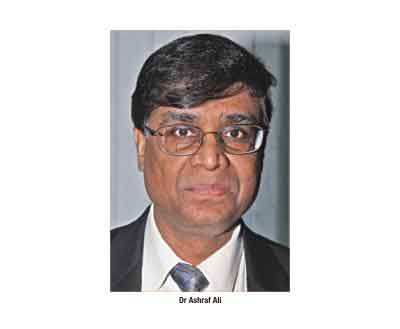 Bangladesh should take initiative to establish capital goods industry at least as a partner country to produce parts and components for industrialised nations, said an analyst.
Dr Ashraf Ali, a non-resident Bangladeshi scholar living in the United States, said Bangladesh will be a latecomer if it ultimately joins this party at all, as the developed world has progressed a lot.
It will be tough for Bangladesh to become a major player in the industry, he added.
"Going head-to-head is impractical in my mind. Latecomers face difficulty in industrialisation within competition-based free-market principle. But there is a win-win solution, where they will give us specification to make sure the product meets the quality and we will make parts and components for them."
"We can produce the same quality of products at low cost, which will allow the foreign companies to sell their products in a cheaper way to compete more effectively in the market," he told The Daily Star in an interview in Dhaka recently.
He was in the city to attend a symposium on capital goods industry organised by US-based Bangladesh Development Initiative (BDI).
Established in 1988, the BDI is a non-profit and non-political organisation in the USA. It is engaged in accelerating socio-economic development of Bangladesh through various campaigns such as conferences and symposia, publication of books and journals, development and submission of policy papers to Bangladesh government.
There are around 40,000 light engineering units in Bangladesh, employing around six lakh semi-skilled, skilled and technically educated and innovative entrepreneurs, according to a study by the SME Foundation.
They are producing 1,000 types of machinery, spares and accessories for automobile, railway, jute, chemical, sugar and food, agriculture, bicycle and rickshaw, pharmaceuticals, engineering and metal industries, shipbuilding, oil and gas line fittings, electrical, electronics and telecommunication sectors.
Imports of capital machinery and local manufacturing together account for Tk 20,000 crore, according to Bangladesh Engineering Industry Owners' Association.
However, Ali said if Bangladesh establishes domestic production of capital goods with research and development, it would allow creation, increased endowment and retention of highly skilled labour as well as overall welfare of the country.
"This is because capital goods industry requires complex and sophisticated technical knowledge. The practice of this technical knowledge and experience would raise individual labour productivity. The knowledge and experience gained from domestic capital goods production would have broad linkages to other economic sectors."
Ali graduated in civil (structural) engineering from Bangladesh University of Engineering and Technology (Buet) in 1979. He is a master in science in civil engineering from Rensselaer Polytechnic Institute, Troy, New York, DSc in civil engineering from Washington University, St Louis, Missouri and MBA from the University of Phoenix, US.
The father of two edited two books -- Development Issues of Bangladesh (1996) and Development Issues of Bangladesh-II (2003) -- both published by Dhaka-based University Press Ltd.
Ali, also the treasurer of BDI, said Bangladesh's capital goods or machinery manufacturing sector has a fairly large, but mostly under-utilised production capacity.
The former lecturer of Buet said, on one side Bangladesh machinery manufacturing and capital goods industry is being presented with a variety of opportunities in recent months. On the other side, this industry is being deprived of government patronage in fundamentally crucial areas.
He said Bangladesh can work as a junior partner with advanced nations and produce parts and components used in the capital goods industry of those nations.
"In recent times, Malaysia has successfully achieved economic development under the patronage of and by partnering with Japan."
According to Ali, in 2010 a number of organisations from the US, Canada and Japan are said to have contacted Bangladesh Industry Technical Assistance Centre whether they can get automotive parts produced by the machinery manufacturing factories in Dholaikhal and Valuka.
"There is no need for Bangladesh to start from scratch as the country already possesses capability."
The 56-year-old said: "Parts and components are being manufactured in many places across the country for a long time. We can see such small industries in Dolaikhal, Bogra and Jessore."
"Their prospect is good, but they copy goods from other countries without any local research and development. From outside they look good, but in reality they are far from the quality of their foreign counterparts. As a result, these goods are not durable."
"Forget about capturing the international market, the quality is not up to par to compete even in the local market. How can we move from the current stage to connect the universities so the product is developed in a proper way? Capital goods needed very sophisticated technology."
Ali said, in Jessore light engineering factories are manufacturing the entire body of automobile and trucks and many other vehicles. They just imitate the imported products. They are producing such things without any engineering knowledge. As a result, it does not add intellectual value to the product, he added.
He said there is a huge demand in the local market. "In any country, the local market is the primary target. They can later look for serving the industries in advanced countries. We have heard that some companies from western world have already started contacting the Bangladeshi manufacturers."
Ali said: "Obviously the customers will be the industries in advanced countries."
Major motor companies in the world could be customers of the light engineering industries in Bangladesh, he said.
"If we cannot manufacture machinery, we can try to make parts and components. We need to do that in an official manner."
Ali said this is the only way for Bangladesh to become industrialised at this late stage in the game, as the country is 100 years behind them in industrialisation.
Ali thinks the country's light engineering sector is capable of ensuring quality of products as per international standard.
He said the industries should be given a separate industrial park so that they can expand their production. "In Dholaikhal, you will see that they are crammed in small places."
The financial support should go to the real producers, who are struggling to establish the light engineering industries, Ali said, adding that the finance should be given according to their needs and in time.
"They also need connection with the real academics. Through the association they should communicate with Buet for improving their quality of works."
He said the R&D has a huge role in taking the largely unorganised sector to the next level. "In the developed world, hundreds of highly educated and skilled engineers are trying hard to make and improve the quality of the products. But the people in Bangladesh are just imitating. It will have to be changed, engaging the technical universities in a proper R&D. The R&D will be triggered by what the sector needs."
He said the major global companies would be interested to work with cheap labour producing countries like Bangladesh for their own survival. "When Japan faced price competition, it engaged with Malaysia and other countries in Asia. It allowed Japan to become price competitive, destroying every competitor in the entire world."
"Now it is up to Bangladesh whether it will catch the opportunity. The government and the industries need to work together to become the junior partners of those industries. We have to ensure facilities that can help make the products of the same quality."
"If the government cannot support them they should leave the sector to grow alone."
Syed Saad Andaleeb, a former president of the BDI, said the country's small engineering industries should strive to build a strong link with technical universities to become a supplier to the local and global firms.
He said the country's technical institutions and universities hardly have research and development centres.
Andaleeb, a professor and programme chair, Marketing Sam and Irene Black School of Business, Pennsylvania State University, said Bangladesh is producing ships for global buyers, but still designs are coming from outside.
He said the industries should communicate with the universities to tell them about their needs. "Industries should also start internship programmes as students of technical and engineering universities do not have any practical knowledge until they enter the industries," said Andaleeb.