UN chief urges Security Council to act on Syria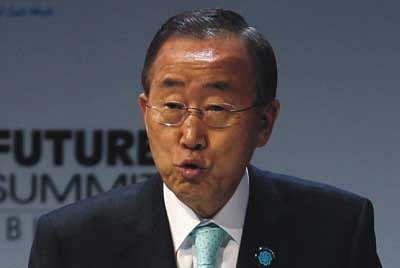 UN Secretary General Ban Ki-moon yesterday appealed to the Security Council to act with "seriousness" on Syria, where he said the situation has become "unacceptable."
"The situation has reached an unacceptable point," Ban told reporters on the sidelines of an energy summit in Abu Dhabi.
"I sincerely hope that the Security Council will handle this in a sense of seriousness and gravity and in a coherent manner.
"I've been urging and appealing to President (Bashar) al-Assad to stop killing... and to listen to his own people," he said.
"Leaders should always be connected with the people. When a leader is disconnected from the reality and from the people, then this situation is inevitable," he added of 10 months of deadly protests against Assad's regime.
Ban said he hoped the UN would act coherently, acknowledging differences of opinion on how to address the situation in Syria where the world body estimates more than 5,000 people have been killed in the crackdown on dissent.
"It is important that the United Nations speaks and acts in a coherent manner," he said.
"I know there are some differences of opinions among member states of the Security Council, but the number of casualties has reached to such an unacceptable stage," Ban said.
"We cannot let this situation continue like this."
In October, Russia and China vetoed a Western draft resolution that would have condemned Assad's regime. Russia, which is sticking by its ally, later circulated an alternative that would have pointed the finger at both sides.
Ban also commended the Arab League for sending monitors to Syria despite criticism of the mission that has failed to end the violence.
"I highly appreciate and commend the efforts by the league of Arab states, by dispatching monitors and engaging in discussions with President Assad," he said.
"I sincerely hope they will be able to carry on," he added.
The opposition has called for the Arab League to pull its observers out of Syria or at least seek UN tactical support, saying they have been ineffective in ending the violence and were repeatedly duped by the authorities.