Amitabh Bachchan takes to Rabindra Sangeet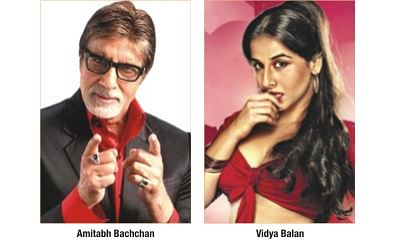 Bollywood veteran Amitabh Bachchan has sung Rabindranath Tagore's popular song "Jodi Tor Daak Shuney Keu Na Ashey" for director Sujoy Ghosh's upcoming film "Kahaani", and the actor is in ecstasy.
Writing on his blog and social network site Facebook, Bachchan waxed eloquent: "May I just say that singing Rabindra Sangeet for the first time was the greatest revelation. The beauty of the language, the lyricism of the tune and its dhun (music) are outstanding.
"This particular, world famous number 'Ekla Cholo', expounding to all that if no one came to you on your calling, walk alone!! And what a fabulous song has been incorporated by Vishal-Shekhar. Truly awesome and worthy of all award."
Vidya Balan, who has played the lead female role in the film, said, "That is very, very kind and generous of him [Bachchan]. He has sung a song for us, I thought that was under wraps, so I didn't say anything but obviously you all seem to know."
"It is a very special song for Kolkata and all the Bengalis. It has been sung by Mr. Bachchan, so it becomes all the more special," added the 33-year-old actress whose bold performance in "The Dirty Picture" is being lauded all over India and beyond.
"Kahaani" is scheduled for a March 9 release and also stars Emraan Hashmi and Bengali actor Parambrata Chatterjee.