USAID pledges to spend $922m by 2016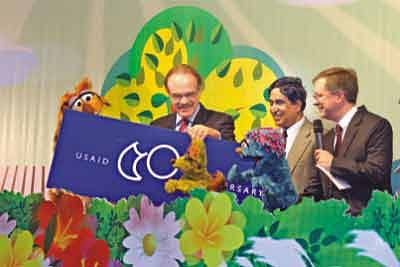 The United States Agency for International Development (USAID) will provide $922 million to Bangladesh over the next five years to help the country address food security, health and global climate change.
The health sector will receive the largest assistance of $312 million, while USAID will spend $269 million for food security, $210 million for humanitarian assistance, $66 million for strengthening democracy and governance and $63 million for climate change.
USAID Bangladesh Mission Director Richard Greene unveiled the agency's new five-year strategy from 2011 to 2016 for the nation at an event at Radisson Hotel in Dhaka yesterday.
The US government's development agency organised the event to celebrate its 50 years of global assistance and 40 years with Bangladesh.
"Bangladesh has made tremendous success in promoting child health and family planning and became one of a few countries who have achieved some of the millennium development goals," Greene said. "USAID has successes in marketing family planning products at affordable prices."
"Our new programmes aim to support Bangladesh to achieve the middle-income country status," he said.
Finance Minister AMA Muhith said the relationship between Bangladesh and USAID is pretty old. He also paid tributes to the US leaders who contributed to setting up USAID for undertaking development projects in the world as well as in Bangladesh.
Food and Disaster Management Minister Muhammad Abdur Razzaque thanked USAID for extending assistance towards Bangladesh in the areas of health and food security soon after 1971.
Fifty years ago, President John F Kennedy set up USAID with a vision of global prosperity and security made possible by human progress. The agency had the mandate to help people help themselves in building a better life for themselves and their children.
"I believe President Kennedy would be pleased and proud of what his creation has done and continues to do here in Bangladesh, in partnership with the people of Bangladesh," US Ambassador to Bangladesh Dan Mozena said.
For the past 40 years, he said, USAID has worked in partnership with local institutions to support the progress and development of Bangladesh.
The Social Marketing Company and ICDDR,B are two noteworthy local partners that have saved the lives of tens of thousands of children and promoted maternal and child health with USAID support.
USAID also help set up the Bangladesh Agricultural University, where researchers have developed high-yield rice varieties.
Since its journey in Bangladesh, 6.3 crore couples have adopted family planning programmes, helping the country get a grip on population growth, Mozena said.
USAID's food security efforts will help an estimated seven million farmers, landless laborers, private sector actors and others in southern Bangladesh to improve their food security and economic status.
Its health activities will help the families of Bangladesh meet their unmet need for family planning, improve the overall health of mothers and children and fight infectious diseases. The climate change programmes will promote clean energy, reduce deforestation and build resilience to the effects of climate change.
As of 2011, USAID has provided over $5.7 billion to Bangladesh in development assistance.