Tribute to a living legend
Suchitra Sen Film Festival kicks off in Pabna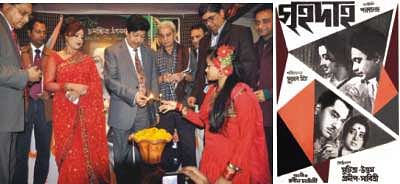 The 3rd Suchitra Sen Film Festival kicked off in Pabna last Tuesday night. Noted actor Faruque inaugurated the weeklong film festival at the Pabna Town Hall premises.
Organised by Suchitra Sen Smriti Shangrakhhan Parishad in Pabna, the film festival began with the speakers demanding the restoration of the ancestral home of the screen legend by freeing it from an institution that has unjustly occupied it. The festival also focused on the heritage of Bangla films.
President of Suchitra Sen Smriti Shangrakhhan Parishad, Pabna, Md. Saidul Haque Chunnu, chaired the opening discussion. Deputy Commissioner of Pabna, Md. Mostafizur Rahman; actors Prabir Mitra and Rozina; secretary of Suchitra Sen Smriti Shangrakhhan Parishad, Ram Dulal Bhoumik; general manager of Universal Group, Achinta Ghosh; secretary of Ekushey Boi Mela Udjapan Parishad, Pabna, Zakir Hossain, among others, spoke on the occasion.
Veteran actor Faruque focused on the early heritage of Bangla films and asked the people to provide patronage to Bangla films. "If we encourage good films, quality films are bound to be produced. It is our duty to restore the popularity that Bangla cinema once enjoyed," he said.
Focusing on the screen persona of Suchitra Sen, the artistes said that Sen's performances still stir the hearts of many. "The characters performed by her still live in the hearts of her fans. She has an enduring screen image," actor Prabir Mitra said.
On the opening day of the film festival, "Sharey Chuattor", a blockbuster featuring Suchitra Sen, was screened. Among the films being screened at the festival are: "Aandhi", "Grihadaha", "Sunflower", "Hospital" and "Ekti Raat".