Tributes paid to Bangabandhu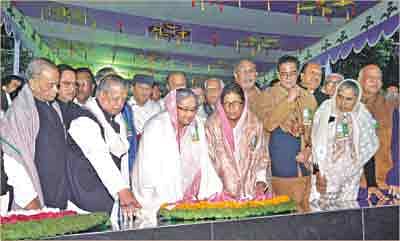 The nation yesterday observed the historic Homecoming Day of Father of the Nation Bangabandhu Sheikh Mujibur Rahman with due respect.
On this day in 1972, Bangabandhu returned to independent Bangladesh after nine and a half months' confinement in the jail of the then West Pakistan.
Pakistani occupation forces arrested him on March 25, 1971 from his Dhanmondi residence during the late-night crackdown on the people of Bangladesh (then East Pakistan).
Prime Minister Sheikh Hasina, also Bangabandhu's daughter, in the presence of ministers, state ministers and senior party leaders placed wreaths at Sheikh Mujibur Rahman's portrait in Bangabandhu Memorial Museum in the city yesterday.
Different associated bodies of the Awami League also placed wreaths at the portrait of Bangabandhu and his grave at Tungipara in Gopalganj.
Milad and doa mahfil were organised in different religious establishments seeking peace of the departed soul of the country's great leader.
AL and different socio-political organisations held discussions in the city and elsewhere in the country on the glorious political life of Bangabandhu, who struggled for two decades for the freedom of the Bangalee.
After placing wreaths, AL General Secretary Syed Ashraful Islam asked the main opposition BNP to return to the parliament and place their demands.
Bangabandhu Parishad held a discussion chaired by its general secretary Dr SA Malek to mark the day.
On the occasion, Bangladesh Muktijuddha Sangsad organised different programmes including hoisting the national and the sangsad's flag and placing wreaths at the portrait of Bangabandhu.