PPP in combating climate change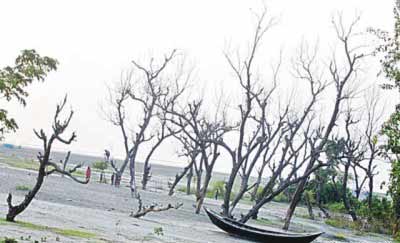 Bangladesh is one of the most vulnerable countries to climate change. Interventions will be required over a long time for adaptation and mitigation. They will need to adopt different approaches to programming, while the ongoing development initiatives will need to be sensitive to climate change. One such approach is Public Private Partnership (PPP). Despite delays in staffing the PPP Unit and implementing the Policy and Strategy on PPP that was approved in 2010, the government took a timely step for the economic growth and development. The government has also been applauded globally as one of the pioneers to formulate the Bangladesh Climate Change Strategy and Action Plan (BCCSAP). If applied properly, PPP can be an effective approach to reduce vulnerability. Such partnerships can also ensure "climate proofing" of other projects implemented through PPP in the country.
People in semi-urban and rural areas directly depend on climate-sensitive sectors like agriculture and businesses for their livelihoods. On the other hand, while some businesses are among the causes of climate change (e.g. emission of carbon dioxide and similar gases), they are also at risk from its effects.
Many, if not most, of the large scale "solutions" will continue to be undertaken by the government. However, the government cannot act alone as it may not have adequate funds, skills, and capacity. Also, some interventions (e.g. building and enhancing large infrastructures) may require long implementation time if they are implemented as public-only projects.
Due to the global scale of the challenge, we need multiple actors including private sector funding and diverse sources of expertise to deliver sustainable solutions. Public funding is likely to be restricted for years to come following the financial crisis, which makes exploring alternative funding and expertise more critical than ever.
PPP models can potentially address the challenges posed by climate change in sectors like housing, communication, infrastructure, health, agriculture, livelihood, water, and sanitation. The private sector can bring innovative solutions and scale to the models for climate change adaptation and mitigation shaped by the government and civil society organisations (CSO). PPP can allow large scale projects to go forward when public sector authorities might not be able to afford them.
While the private sector can play a role in lining up new funds, shaping risk management mechanism and innovative technological solutions, the government can play a role as facilitator/regulator and earmark funds through national development schemes. CSOs can play major roles as mediators between the public sector, private sector, and communities.
PPP has been used to combat climate change with promising results in other parts of the world. For example, the energy-efficient street lighting in Bhopal and New York; Chicago Solar Partnership that boosted air quality and reduced CO2 emission; Metrobus PPP project in Mexico City to reduce car use and CO2 emission; and Free City Bike Partnership programme in Copenhagen.
In June 2011, the Management Association of the Philippines (MAP), the Philippine Chamber of Agriculture and Food Inc. (PCAFI), and the EARTH Institute Asia Inc., together with several organisations, launched a new PPP programme that aims to reduce the impact of climate change and other risks while contributing to the sustainability and progress of the Philippines.
There has been a wide range of debate over how to best engage the private sector and adopt PPP in climate change programming. While CSOs have expressed reservations around private sector involvement in climate change work, the private sector also fears losing profit if they are held responsible for CO2 emissions and similar gases. The other fear is that as regulations increase, the price of goods and services might also rise, and thus, may no longer be affordable to poor and marginalised people. But, despite this concern, the potential of PPP will be wasted if profit is the main motivation for the private sector. Rather, combating climate change along with climate proofing of interventions and commitment to corporate social responsibility (CSR) must be a priority for businesses. However, at the policy level, there is no clear guidance on how the private sector might best adopt solutions that consider the environment, while also ensuring profit.
During the PPP and climate change session at a recent workshop on climate financing, one group of participants commented: "No to PPP, no to privatisation, no to private sector in climate change work." Another group thought that mechanisms to ensure transparency and accountability for a powerful sector like the private sector may not be strong enough in a developing country like Bangladesh to ensure benefits for the common people if PPP is adopted. Yet another voice was that private sector is active in many fields, the government has made a commitment to PPP through the PPP policy and strategy and allocating resources, and the sector has the resources and other potentials; therefore, PPP should be adopted with mechanisms to ensure good governance in the partnership process. A similar range of opinions was observed at a session at the South Asia Social Forum in Dhaka in November 2011.
Balanced participation of government, private sector, and CSOs is required to select projects and implementers. CSOs can bring in the voices of citizens and help empower them to monitor projects, including assessment of the environmental impacts on communitiesespecially the poor and marginalised, and particularly women and girls.
Ensuring competition among private sector companies in the PPP process will help reduce project costs and make the services more affordable to the poor, who are the most vulnerable to the effects of climate change.
Detailed action plans need to be developed under BCCSAP by the government in collaboration with private sector and CSOs to adopt PPP in climate change work. Industry-specific national level working groups should also be set up for inclusion of climate change issues.
If PPP is adopted in climate change programming, we should not take it for granted that CSRnot just corporate philanthropyand "climate proofing" are automatically ensured. We need clear policies and guidelines for planning, implementation, and monitoring these issues. The government needs to provide a conducive environment for promoting PPP models to reduce vulnerability to climate change. Incentives could be considered to award innovative businesses that have adopted green technologies.
It is important to promote small infrastructure projects promoting alternative energies, non-conventional waste management, and green technologies with active participation of private sector and CSOs. The government should also promote market place and incubation facilities to scale up small and grassroots innovations for sustainable models of climate change adaptation.
In order for the private sector to become actively involved in Bangladesh's battle to adapt to and mitigate the effects of climate change, active engagement of all partiesfrom the government and the private sector, to CSOs and citizens -- is key. They must work together closely to reduce vulnerability to climate change while enhancing economic growth and development for the country.
The writer is The Asia Foundation's Senior Program Director in Bangladesh. E-mail: siddiqi@asiafound.org