Manipuri Theatre premieres Debotar Grash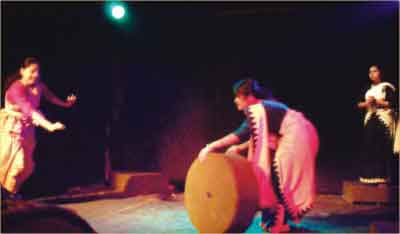 Manipuri Theatre staged its newest production, Rabindranath Tagore's "Debotar Grash", on December 29 at the Studio Theatre Hall, Bangladesh Shilpakala Academy. After seven shows at the troupe's local area in Kamolganj, Maulvibazar, this was the Dhaka premiere of the play. The play premiered in Kamolganj on June 13 last year. The play received a grant from the government along with other selected troupes to produce Tagore play on his 150th birth anniversary.
The experimental work, based-on Tagore poem with the same title, has been both adapted and directed by Shuvashis Sinha.
The performance was mainly choral. Individual dialogues were often overtaken by the choral renditions.
The story depicts the epic voyage of a group of people who face a tempest during their return home after attending a ritualistic festival. Among the travellers is a priest who is caught in a dilemma between religion and humanity even as he tries to determine the cause of the tempest.
Sinha adapted the play into his mother tongue of Bishnupriya Manipur language. It was hard for the Dhaka audience to keep pace with the dialogues; nevertheless, it seemed that the performance was largely based on musical elements. Using their traditional cultural elements such as dance forms and singing style, the Manipuri actors narrated the Tagore work in an indigenous theatre form.
The cast of the play included Jyoti Sinha, Lakkhan Sinha, Bhagyalakkhi Sinha, Smriti Sinha, Sushanto Singha, Sunil Singha and Shukla Sinha. Sudip Chakroborthy did the light designing, while Sharmila Sinha did the music. The music featured compositions of Tagore tunes with his lyrics transformed into Bhishnupriya Manipuri language.
Ramendu Majumdar, ITI Worldwide president and chief of the committee that allotted troupes to produce Tagore plays, inaugurated the Dhaka show at the Studio Theatre Hall. After the premiere, two more shows of the play were staged the following day.