Farm credit rollout slows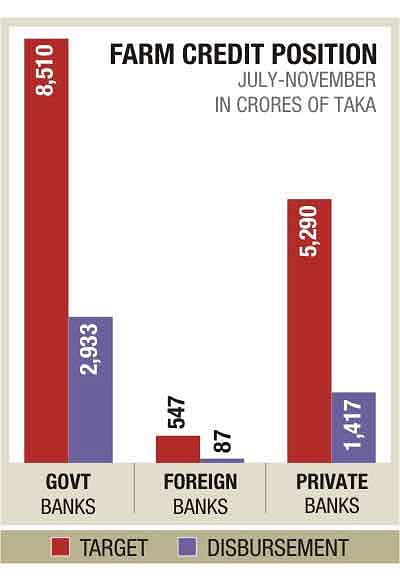 Farm credit disbursement lost momentum as private and foreign banks are lagging sharply behind the target, Bangladesh Bank statistics show.
Banks have achieved less than one-third of the farm credit disbursement target in the five months through November, which is nearly 6 percentage points lower than in the same period a year ago.
In absolute terms, the disbursement went down by nearly Tk 200 crore to
Tk 4,350 crore in July-November from
Tk 4,721 crore in the same period a year ago.
Bankers, however, blamed the ambitious target set by the central bank and soaring cost of funds and interest rates for this year's poor performances.
"We disbursed around Tk 30 crore last fiscal year, but the BB gave us a target of nearly Tk 130 crore this fiscal year. Isn't it impossible for any bank?" said a chief executive officer of a private bank.
The CEO also criticised a BB move that said unutilised funds of the target should be kept with the central bank and disbursed by microfinance institutions.
Khandker Ibrahim Khaled, chairman of Bangladesh Krishi Bank and a former deputy governor of the central bank, however, blamed private banks' least interest in agri loan.
"The private banks are a bit shy to give farm credit," Khaled said. "There are credit demands in rural areas," he said, quoting the government banks' disbursement trend.
The agriculture sector employs more than 50 percent of Bangladesh's workforce and contributes more than 20 percent to the country's gross domestic product.
Nine foreign banks disbursed only Tk 87 crore during July-November of the current fiscal year against a target of Tk 547 crore. Two of these banks -- State Bank of India and Habib Bank of Pakistan -- failed to disburse a single penny in five months.
Citibank NA disbursed only Tk 6 crore in five months against a fiscal year target of Tk 200 crore. National Bank of Pakistan gave only Tk 53 lakh so far against its annual target of Tk 19 crore.
Of the local private banks, Premier loaned only Tk 25 lakh or 0.26 percent of its target. Bangladesh Commerce Bank, Dhaka Bank, First Security Bank, Jamuna Bank, NCC Bank, Shahjalal Islami Bank, Southeast Bank, Trust Bank and Standard Bank failed to disburse even one-tenth of their annual target in five months.
State-owned Rupali disbursed only Tk 8.59 crore against the target of Tk 130 crore.
BASIC Bank, EXIM Bank and Pubali Bank loaned around 15 percent of their target so far, BB data shows.
BRAC Bank topped the list with more than 82 percent or Tk 141 crore credit disbursement during the period. Bank Asia gave nearly 63 percent or Tk 95 crore, AB 41 percent or Tk 70 crore, IFIC 48 percent or nearly Tk 47 crore and Islami Bank 41 percent or Tk 411 crore.
State-owned banks, which account for more than two-third of farm credit, disbursed nearly Tk 700 crore less so far this year than the same period last year.
Nurul Amin, managing director of NCC Bank and chairman of Association of Bankers Bangladesh, hoped the situation would improve in the second half of the fiscal year.
"We're trying to be linked with the NGOs to boost disbursement," said Amin. "But rising interest rate, now at 13-14 percent, is a factor," he added.
Khaled of Krishi Bank also hoped this year's disbursement would exceed Tk 12,000 crore against a target of Tk 13,800 crore. All the banks gave Tk 12,617 crore farm credit last fiscal year.