3 years of government
Little progress in police reform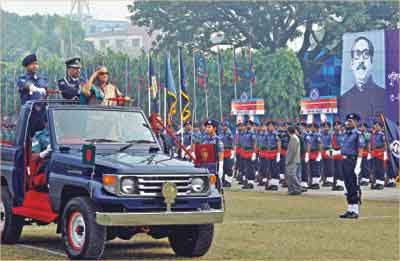 Since assuming office in 2009, the government has tried to strengthen the police department by introducing more wings, procuring arms, vehicles and other logistics but took no initiative to free the force from political influence.
A number of police high-ups expressing frustration said the much-talked-about Bangladesh Police Ordinance that was drafted in 2007 got entangled in the home ministry red tape.
Mukhlesur Rahman, chief of Criminal Investigation Department (CID) and also the project director of Police Reform Programme (PRP), said, "We need reforms in the force to keep it free from corruption and away from influential quarters. And that is why, the implementation of the draft Police Ordinance is a prerequisite."
A high official in the home ministry wishing anonymity said, "Reforming police force requires a decision from the policymakers. The ministry has nothing to do without the nod from the government."
The draft ordinance sought to create an independent National Police Commission to recommend appointment of the police chief and posting of other high-ranking officials.
It also has a provision for an independent Police Complaint Commission to check crimes within the force.
Usually, transfers and appointments in the force widely depend on bribe and lobbying with the ruling political parties. So police officers remain loyal to political leaders rather than their department, several police high-ups said.
The draft ordinance sought to stop this practice and stated, "Direct or indirect influence in police investigation, law enforcement operation, recruitment, promotion, transfer, posting or any other function in an unlawful manner shall be a criminal offence."
A source said a sub-inspector (SI) in the haor areas needs to pay around Tk 1.5 lakh to Tk 2 lakh as bribe to have posting in nearby police stations like Bhairab, Narsingdi and Joydevpur.
Apart from the lack of proper policy, the police department is also limping with poor logistics and inadequate manpower, although Prime Minister Sheikh Hasina pledged to solve those.
The premier in her speech in the Police Week-2011 made a series of pledges including solving the vehicle and housing crisis, introducing special allowance for Special Branch and CID and opening several wings like tourist police, marine police, and security and protection battalion.
She also spoke of taking steps to create 10 more grade-I posts in the force, upgrade the rank badge of the inspector general of police (IGP), raise the post of SI and sergeant to class-II while of inspector to non-cadre class-I.
In a latest development, the government yesterday upgraded the posts of inspectors, SIs and sergeants.
However, several high officials of police said most of the pledges the PM made has remained unfulfilled.
M Mahbub Alam, assistant inspector general of police, said, "We have only 6,000 vehicles -- half of which are motorbikes -- against a requirement of 20,000. Of the vehicles in hand, the incumbent government bought around 650 double cabin pickups and motorbikes over the last three years."
As for instance of poor logistics, police station in Savar, on the outskirts of the capital, has only one double cabin pickup and four motorbikes for its 100 staff including the officer-in-charge (OC), 21 SIs, 11 assistant sub-inspectors.
OC Asaduzzaman of the police station said they have five other ramshackle vehicles, which are literally out of order. The station needs at least 10 double cabin pickups and 20 motorbikes, he added.
Sources in the police headquarters said they had sent the home ministry a proposal last November for providing eight double cabin pickups and 19 motorbikes for each police station having over 80 staffs while five pickups and 11 motorbikes for the ones having lesser number of police personnel.
Residential facility for police officers has been another problem that the government in its three years' time so far failed to solve.
Police headquarters sources said in the capital 92.23 percent police officers entitled to government quarters are living in rented houses. Against 33,545 personnel entitled for housing there are only 2,605 government quarters, number of which has not increased over the last three years.
Contacted, several SIs preferring not to be named said they receive Tk 3,500 to Tk 4,000 as house rent while they have to spend around Tk 7,000 to Tk 10,000 for rent which eats up a good share of their salary.
With this problem breathing down the neck, the government has created 20,000 posts as part of its move to recruit 32,000 more personnel. It has so far appointed over 17,000 police personnel.
Sources in the police headquarters said the incumbent government by this time introduced Industrial Police Unit, Armed Police Battalion (APBN) training school and Rangpur Range.
Meanwhile, the police department undertook several initiatives to ease public sufferings.
In early 2009, Dhaka Metropolitan Police authorities started controlling traffic through signal lights phasing out the manual traffic management system, introduced lane system for vehicular movement, and started filing of general diary online. But the initiatives fell flat on the face.
According to police website, the crime trend also marks a rise as there were 1,57,979 crime incidents including kidnapping, murder and smugglings in 2008 while in 2010 the figure stood at 1,62,898.