Rajuk fails to act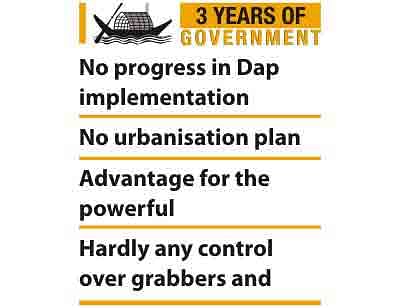 Three years into its administration, the Awami League-led government has done little to fulfil its pledge to enforce construction laws and stop grabbing of rivers and public land in and around the capital.
Planned development of the capital on the basis of a master plan and the Detailed Area Plan, better known by its acronym Dap, has remained a far cry, according to urbanisation experts and environmental lawyers.
Dishonest businessmen have taken advantage of lax application of laws to grab public land, rivers and wetlands and destroy flood plains.
In the face of pressure from land grabbers, the government stalled the implementation of Dap and a master plan for the development of the burgeoning city.
Prof Sarwar Jahan, president of Bangladesh Institute of Planners, said the government has failed to ensure planned urbanisation in the past three years of its rule. "The performance is frustrating," he said.
Land grabbers and housing developers ruled the game, as Dap was sent for review by a ministerial committee even after the vital planning document was published in the official gazette nearly two years back.
Rajdhani Unnyan Kartripakkha (Rajuk), entrusted with the city's development, has proved toothless in combating corruption in this sector, according to researchers on urban issues.
The government does not have a specific plan for urbanisation, said Syeda Rizwana Hasan, executive director of Bangladesh Environmental Lawyers Association, adding it has instead ruined the existing plan.
There has not been even a routine attempt to recover the city's parks and playgrounds from unauthorised occupation, she said.
The prospect of a livable Dhaka city turned bleak after the implementation of Dap was put under a ministerial committee.
Real estate businessmen with political connections misled the prime minister into forming such a committee to slow down planned development as per Dap, said Prof Jamilur Reza Chowdhury, who headed the Dap finalisation body.
Abdul Mannan Khan, state minister for housing and public works, said the ministerial committee is not an obstacle to Dap implementation.
Regarding widespread grabbing of wetlands for illegal housing projects, he said, "We will not approve these projects"
Dap has identified in details every structure, lake, canal, wetland, water retention pond, road, open space, place of worship and all other topographical features of the city. It has also discouraged unauthorised land use.
It has recommended reclamation of more than 2,500 acres of flood flow zones and agricultural land from the grip of unauthorised housing projects, relocation of 2,724 factories and scrapping 16 public and private projects.
Of the 1,528-square kilometre Rajuk area, 32 per cent has been earmarked for flood flow zones and wetlands.
In June this year, the High Court declared a total of 77 private housing projects illegal for violation of master plan, wetland and environment conservation laws and private housing development rules.
The court asked Rajuk to remove signboards and earth filling at those projects and stop sale of plots. But Rajuk has only knocked down the billboards.
Rajuk has made some patchy attempts to rectify negligible building code deviations by ordinary owners, but failed to take effective actions against the powerful who have built many skyscrapers even without approval.
The 18-storey Premier Square, 22-storey Jabbar Tower, 25-storey Doreen Tower, 15-storey Bulu's Tower and 15-storey Natore Tower either lack approval or have gone two or three times beyond the approved height or grossly violated building construction rules.
Though Rajuk is trying to enforce the amended building construction rules, it lacks adequate manpower and mechanism to ensure an effective enforcement.
The compliance with Bangladesh National Building Code was made legally-binding five years back. But the government's failure to designate building officials to enforce it left the construction and demolition work in disarray.
Suhel Ahmed Choudhury, former housing and public works secretary, said at an international seminar on urbanisation recently that Rajuk has ever been busy with plot development as a housing agency.
Widespread corruption and incompetence have weakened Rajuk, he said.
Urbanisation experts have said time and again Rajuk must give up its plot development and housing business and instead concentrate on regulating development.
But the government paid no heed to their views.
It is instead working on only boosting Rajuk's manpower, ignoring experts' plea that it should be reformed and turned into a trust comprising professionals, public representatives and civil society members.