The week that was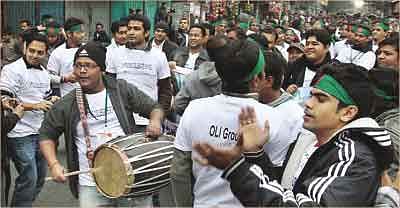 Proper urban planning stressed
The important cities like Dhaka and Chittagong are facing series of problems due to lack of proper planning and management, speakers said at a seminar on Tuesday.
They also stressed the need for formulating an effective urban plan for building modern, pollution-free and livable cities in the country.
They were speaking at the seminar titled "Urban Design: Two Case Studies in Chittagong and Dhaka" organised by Urban and Regional Planning Department of Chittagong University of Engineering and Technology (Cuet) at its auditorium in association with Bangladesh Institute of Planners, Chittagong chapter.
Dr Adnan Morshed of School of Architecture and Planning Department of The Catholic University of America, Washington, presented the keynote paper as chief guest at the programme.
Dr Adnan said modern urban planning stresses the environment-friendly city designing as well as an effective town management where land use, transportation, water supply, sanitation and waste disposal get priority.
Bangladesh Institute of Planners (Chittagong Chapter) President Ali Ashraf and Prof Israt Jahan spoke as special guests with Cuet Vice-Chancellor (in charge) Dr Tazul Islam in the chair.
Positive role of media underscored
Speakers at a roundtable said media could play a vital role in bringing positive change in the society through reporting issues related with development.
They said important social issues like education and health should be addressed properly in media.
Community Development Centre (Codec), a non-government organisation (NGO), in association with Gono Swaksharata Ovijan arranged the roundtable titled 'Media strategy for campaign' at a city hotel on Monday.
"The goal of the media is not only to inform but also educate the people," they said, adding that media should set development-oriented agenda.
Codec Deputy Executive Director Kamal Sen Gupta, The Prothom Alo Resident Editor Abul Momen, media personality Manjurul Ahsan Bulbul, Chittagong Union of Journalists (CUJ) General Secretary Najim Uddin Shyamal and journalist Hasan Ferdous spoke at the programme.
2 vessels to be exported to Germany
Country's leading shipbuilding company Western Marine Shipyard launched two ocean-going vessels for export to Germany.
The launching of these two vessels was held on December 23 and 25 respectively. The two with the total capacity of 10,400 DWT will be handed over to the German buyer, Grona Shipping GmbH Germany in February, 2012.
Saiful Islam, chairman of Western Marine, lauded the government for giving special care and importance to help grow further the burgeoning shipping industry in Bangladesh.
Cooperation and good team management of the shipyard production team had helped the company launch the vessels timely and safely, said Managing Director Sakhawat Hossain.
CU participates in world debate contest
Two debaters of Chittagong University (CU) under the initiatives of Chittagong University Debating Society (CUDS) participated in an international debate competition titled 'World University Debate Championship (WUDC)-2011' organised by De La Salle University Debating Society of Manila, said a press release.
On the occasion, debaters Badruddoza Jewel and Khalil Zibran Swakshar left Chittagong on Saturday to participate in the competition that began on December 27 at Manila in the Philippines.
Vice-Chancellor Prof Anwarul Azim Arif expressed hope that it must uphold image of the university as well as the country.
The two debaters, who also participated in Asian British Parliamentary Debate Championship this year, are participating in the competition under the patronisation of Lions Club of Chittagong Khulshi, Director of Nurjahan Group Tipu Sultan, CUDS Adviser Altaf Mohammad Hannan and Lion Hasina Khan.
Award giving ceremony held
The award giving ceremony of robot race competition titled 'Roborace-2011' was held at a hotel in the port city on Tuesday.
IUT-CYBORGS from International Islamic University of Technology (IUT) clinched the championship while Cuet-Bedouin from Chittagong University of Engineering and Technology (Cuet) and Buet-Sparkles from Bangladesh University of Engineering and Technology (Buet) got the first runner-up and second runner-up position respectively.
The competition was the first of its kind across the country was arranged as a part of the International Conference on Mechanical Engineering and Renewable Energy (ICMERE) which was held at Cuet from December 22 to 24.
The Conference was organised by the Mechanical Department of Cuet.
Cuet Vice-Chancellor Dr Shyamol Kanti Biswas and Mechanical Department Head Dr Tazul Islam distributed the awards among the winners.
A total of 24 teams from different universities took part in the competition.