Art workshop at Dhaka Art Centre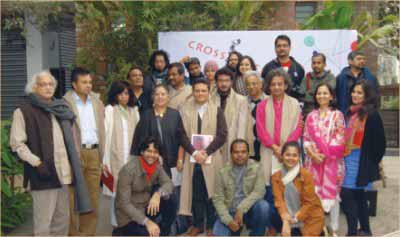 Depart, an art quarterly has organised a workshop, titled "Crossover", featuring painters from Bangladesh and India. The workshop has been divided into two parts -- the first part is now on at Dhaka Art Centre (DAC), while the second part will be held in Delhi.
The workshop was inaugurated by painter Shahabuddin Ahmed on December 19 at DAC, Dhanmondi. Manzare Hasin Murad, filmmaker and a trustee of Dhaka Art Centre; K. Anis Moquit, publisher of Depart and a trustee of Dhaka Art Centre and participating artists were present at the inaugural programme.
Indian curators Sushma K. Bahl, Archana B. Sapra, and Bangladeshi artist and critic Mustafa Zaman are conducting the workshop.
The participating Indian artists are: Bhagat Singh, Dilip Sharma, Farhad Hossain, Guru Dev Singh, Jagdish Chintala, Puja Bahri and Pragya Jain.
Participating Bangladeshi artists are Ronni Ahmed, Abdul Halim Chanchal, Abdus Salam, Rafiqul Islam Shuvo, Shornali Mitra Rinni, Anukul Majumdar, Ripon Saha, Manjur Ahmed and Wahiduzzaman.
The workshop involves various styles and techniques including realism. A number of painters are emphasising on pure forms and compositions.
Mustafa Zaman said, "I feel that this exhibition and workshop could work as a cultural link between artists of India and Bangladesh."
The workshop will continue till December 23. After completion, the organiser will arrange a weeklong exhibition (featuring the outputs of the workshop) at DAC. Mijarul Quayes, secretary, Ministry of Foreign Affairs, will inaugurate the exhibition on December 23. Architect and art critic Shamsul Wares will be present as special guest at the opening.
Second part of the workshop will be held from January 15 to 20, 2012 in Delhi. The outputs of the workshop will be displayed at Gallery Art Mall in Delhi.