<i>All she wanted was to study</i>
Husband blindfolds, chops off her hand as punishment, culprit sent to jail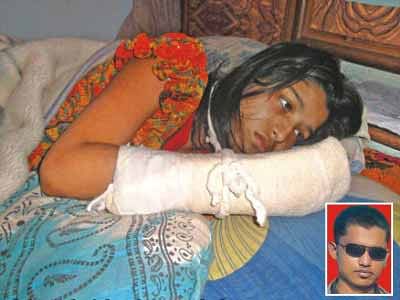 She was blindfolded and gagged. Her hands tied.
Her husband took out a machete and hacked off her right hand. Her only fault was that she would pursue studies despite her husband's objections.
"I was waiting for a surprise from my expatriate husband with my eyes closed. But, instead, he cut off my hand," 21-year-old Hawa Akhter Jui, a college student, told The Daily Star at her parents' house in Narsingdi.
"He also tried to sever my other hand. He would have succeeded had not his sister and brother-in-law, Lance Corporal Shafiqul Islam, rescued me by breaking in the door of the room."
Jui's husband Rafiqul Islam, 25, an expatriate worker in the UAE, told her over the phone that he had sent some gifts for her. Rafiqul asked Jui to collect the gifts from his sister Naima Begum's house in the capital's cantonment area.
She went to her sister-in-law's house on December 1 and stayed there. Jui's husband Rafiqul, who studied up to class-VIII, unexpectedly turned up there on December 4.
He took her into a room in the house and locked her in. He said he had a surprise for her.
Rafiqul covered her eyes with a piece of cloth, taped her mouth shut and cut the hand with a machete.
"He [Rafique] said he is putting an end to my studies forever," said Jui, a second-year student of Narsingdi Government College, narrating the moments of horror.
Jui was whisked off to the Pangu Hospital. She later phoned her parents and told them about the incident. She was then taken to Narsingdi.
Jui and Rafiqul from Brahmanbaria got married on January 30, 2008 with the consent of their families. She had been continuing studies staying in her parents' house in Narsingdi.
Police arrested Rafiqul after Jui's father Yunus Mia filed a case with the Cantonment Police Station.
Jui told The Daily Star that she was eager to continue her studies. "My right hand has been cut off, but I can use my other hand," she said.
Mohammad Salauddin, officer-in-charge of Cantonment Police Station, said Rafiqul, who is in prison after a one-day remand, had admitted hacking off his wife's right hand to prevent her from studying.
"We recovered the machete he used," Salauddin said, adding that most of her right hand, with all the fingers, was lost.
Rafiqul's sister and brother-in-law had given statements, said the OC.
Doctors at the Pangu Hospital said Jui's severed hand could not be reattached. They said the hand was left detached for more than six hours and the cells had died.
Jui's father sought financial and legal help from the government and people, saying he doesn't have enough money to ensure proper treatment of his daughter.