Change villages into dev hubs: President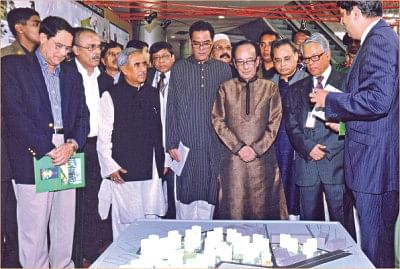 President Zillur Rahman yesterday called for turning the villages into "centres of development" to ensure all sorts of civic amenities to the country's vast population.
The president made the call at the inauguration of the first conference of the newly formed Bangladesh Urban Forum at Bangabandhu International Conference Centre in the city.
Zillur said that as the country's resources are limited but population is vast, all villages should be developed in order to prevent the flow of people towards towns and cities.
"Not only towns, all areas of the country will have to be brought under the balanced development to build the 'Sonar Bangla' as dreamt by the Father of the Nation Bangabandhu Sheikh Mujibur Rahman".
He urged the urban planners and others concerned to ensure all sorts of civic amenities while planning for urbanisation. "I deem that urbanisation will be environment friendly, healthy, safe, and balanced", he said.
Zillur Rahman said it is true urbanisation that could play a strong role in accelerating economic growth, but rapid urbanisation creates social and economic discrimination. "Slums are created here (in the capital) alongside the high-rises, though it is not expected".
LGRD and Cooperatives Minister Syed Ashraful Islam, State Minister for Housing and Public Works advocate Abdul Mannan Khan, and UN resident coordinator and UNDP resident representative Neal Walker also spoke at the function as special guests. State Minister for LGRD and Cooperatives Jahangir Kabir Nanak presided over the inaugural session.
Describing urbanisation as ongoing process, Syed Ashraf said population in urban areas has annually been increasing at a rate of 3.5 percent, which is 2.5 times higher than the overall population growth in the country.
The LGRD minister said the government is working to formulate an appropriate urbanisation policy, strengthen the local government institutions, and ensure civic rights for all.
The three-day conference, "Bangladesh's Urban Future: Making Cities and Towns Work for All", was organised to facilitate sharing of experience and knowledge among the stakeholders to contribute to the formulation and implementation of policies and improving practices in the urban sector management, primarily aiming to reduce urban poverty.