<i>Animals predict quakes</i>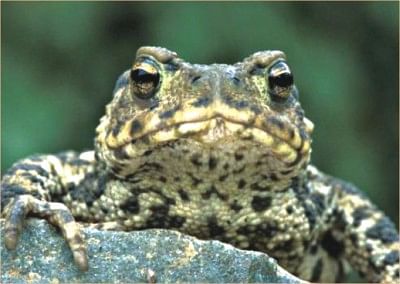 Animals may sense chemical changes in groundwater that occur when an earthquake is about to strike.
This could be the cause of bizarre earthquake-associated animal behaviour, scientists say.
Researchers began to investigate these chemical effects after seeing a colony of toads abandon its pond in L'Aquila, Italy, in 2009--days before a quake.
They suggest that animal behaviour could be incorporated into earthquake forecasting.
The team's findings are published in the International Journal of Environmental Research and Public Health.
Animals that live in or near groundwater are highly sensitive to any changes in its chemistry, so they might sense this days before the rocks finally "slip" and cause a quake.
The team, led by Friedemann Freund from Nasa and Rachel Grant from the UK's Open University hope their hypothesis will inspire biologists and geologists to work together, to find out exactly how animals might help us recognise some of the elusive signs of an imminent earthquake.
There have been reports throughout history of reptiles, amphibians and fish behaving in unusual ways just before an earthquake struck.
Grant, a biologist from the Open University, was monitoring the toad colony at L'Aquila as part of her PhD project.
"It was very dramatic," she recalled. "It went from 96 toads to almost zero over three days." Grant published her observations in the Journal of Zoology.
Scientists at the US space agency had been studying the chemical changes that occur when rocks are under extreme stress.
Nasa geophysicist Friedemann Freund showed that, when rocks were under very high levels of stress--for example by the "gargantuan tectonic forces" just before an earthquake, they release charged particles.
These charged particles can flow out into the surrounding rocks, explained Dr Freund. And when they arrive at the Earth's surface they react with the air-converting air molecules into charged particles known as ions.
"Positive airborne ions react with water, turning it into hydrogen peroxide," said Dr Freund.
This chemical chain of events could affect the organic material dissolved in the pond water--turning harmless organic material into substances that are toxic to aquatic animals.
Dr Freund said that the behaviour of animals could be one of a number of connected events that might forecast an earthquake.