Tata brings AC buses for commuters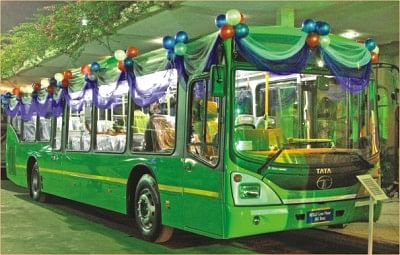 Indian Tata Motors yesterday launched its low-floor air-conditioned bus in Bangladesh to attract city bus service providers.
India's largest automobile company said it wants to market 300 AC buses, especially among the bus service providers in Dhaka.
This was disclosed at a programme at Ruposhi Bangla Hotel organised by Tata Motor's distributor in Bangladesh Nitol Motors Ltd.
Tata Motors Managing Director PM Telang said Tata wants to bring in manufacturing facility in Bangladesh.
The price of each AC bus will be Tk 85 lakh to Tk 1.15 crore, said Abdul Musabbir Ahmad, managing director of Nitol-Niloy Group.