Ansars clinch Open eves'cricket title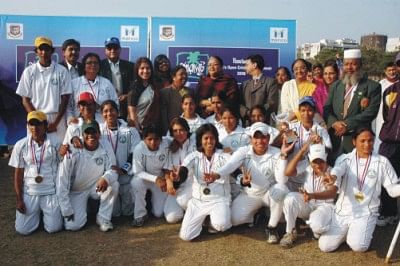 Bangladesh Ansar and VDP became champions in the Parachute Women's Open cricket tournament after a two-wicket victory against Ispahani Sporting Club in the final at the Dhanmondi Cricket Stadium yesterday.
The star-studded Ansars recovered from early hiccups to score 115 for eight in 32.3 overs in reply to Ispahani's 114-5 in the stipulated 35 overs.
Captain Panna Ghosh, player of the final, associated in a 51-run stand with Tithi Rani Sarker for the fifth wicket to ensure the victory after the winners had stumbled to 39-4.
Panna scored 25 off 43 deliveries with a boundary while Tithi played 38 balls to make 25, hitting two fours.
Ispahani captain Salma Khatun, who was adjudged player of the tournament, grabbed two wickets for 14 from seven overs.
Rumana Ahmed also captured two for 18 while Manjila Khatun and Tahin Tahera bagged one wicket each.
Earlier, Suktara Rahman made 28 off 70 deliveries with two boundaries for the inserted Ispahani.
Salma, one-down Rumana Ahmed and Jahanara Alam each chipped in with 17 runs.
Khadija Akhter was the most successful Ansars bowler by claiming three wickets for 14 from seven overs.