Guerrilla wins big at Kolkata Film Festival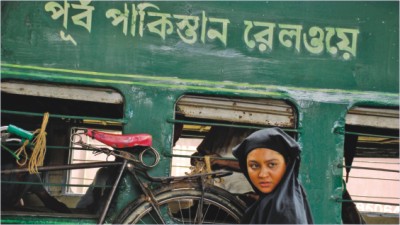 It was "Joi Bangla" all the way at Kolkata Film Festival, which concluded on Thursday evening.
Nasiruddin Yousuf-directed "Guerrilla", the feature film that captures Bangladesh's Liberation War on an epic canvass, won the Best Asian Film award and hearts of discerning film buffs of Kolkata. Another Bangladeshi filmmaker Rubaiyat Hossain's "Meherjaan" also impressed the cinema lovers in the "City of Joy".
What made "Guerrilla" stand out among the movies that were screened in the competitive section introduced in the Kolkata festival for the first time this year was the huge canvass on which the Liberation War was portrayed.
A jubilant Yousuf, popular as "Bachchu bhai" in Bangladesh's theatre and cultural circles, told The Daily Star that the film was shown thrice at the festival and all three shows drew full-house.
It was in the fitness of things that Yousuf, himself a freedom fighter, dedicated the award to martyrs of the Liberation War.
The award for "Guerrilla" made Paschimbanga Chief Minister Mamata Banerjee nostalgic, as she recalled her younger days when she said people of her generation were inspired by songs like "Shono Ekti Mujiborer Thekey" and "Amar Shonar Bangla".
Mamata handed over a shawl and bouquet to Yousuf, while the award to him was presented by director Sandip Ray, son maestro Satyajit Ray.
Meanwhile, "Meherjaan", starring Victory Banerjee and Jaya Bachchan, among others, also caught the viewers' attention in Kolkata as it was for the first time that the film was shown in India.
Cine buffs liked the film as all the three screenings saw packed halls.
The film is expected to be released in India too. "We are looking for a distributor in India. We are also trying for a DVD release in India and Bangladesh," Rubaiyat Hossain, who has tied up with Anticlock Films, owned by Sanjay Suri and Onir, to sell the film in India, said.
All is well that ends well. If the opening of the Kolkata Festival was off to a controversial note with thespian actor Soumitra Chatterjee and veteran directors like Mrinal Sen and Tarun Majumdar staying away from the inaugural ceremony, the concluding ceremony showed signs of reconciliation.
A major attraction of the festial was Ketan Mehta's unreleased film "Rang Rasiya".
Based on the life of 19th century painter Raja Ravi Varma, "Rang Rasiya", starring Randeep Hooda and Nandana Sen, was screened to an overflowing theatre.
Film buffs stood in an hour-long queue at the state-run theatre 'Nandan', with over a hundred of them sitting on the hall's floor to watch the film.
"Given the response, I didn't feel that I am watching it at a film festival where the crowd is reserved. Here people from every walk of life came in," an overjoyed Nandana said.
The 2008 film is yet to be released commercially and has already courted controversy for taking artistic freedom in boldly depicting nudity.
Rare photographs taken by Satyajit Ray, kept on display at the film carnival, also turned out to be a big hit. Ray's camera had captured some of the farthest corners of the world's most picturesque cities. The exhibition included snaps of the urban lives of Berlin, Rome, Venice, Japan and New York. A sketch related to the film "Shatranj Ke Khiladi" was a special attraction. The most impressive part of the collection, however, was "Mahanayak" Uttam Kumar's two portraits taken in Rome.
KFF's opening film "The Magicians", made by Danish director Joram Lursen, struck a chord with the audience with its universal storyline of the love between father and son.
London-based Pakistani filmmaker Hammad Khan's "Slackistan", Turkish director Nuri Bilge Ceylon's "Once Upon a Time in Anatolia", Hungarian director Bela Tarr's "The Turin Horse" and "Certified Copy" made by Iranian director Abbas Kiarostami too proved to be a hit with the people.
Tributes were paid to some of the legends by the screening of Ashok Kumar's "Kismet" and Uttam Kumar's "Nayak" directed by Ray.
With Kolkata as its theme, films like Satyajit Ray's "Jana Aranya", Mrinal Sen's "Interview", Ritwik Ghatak's "Jukti Takko Aar Gappo", Tapan Sinha's "Apanjan" and Goutam Ghosh's "Kaalbela" were screened.
India's second oldest international film festival saw the screening of 150 films by 125 directors, selected from 50 countries, over a period of seven days.