Green Tech
The rise of solar power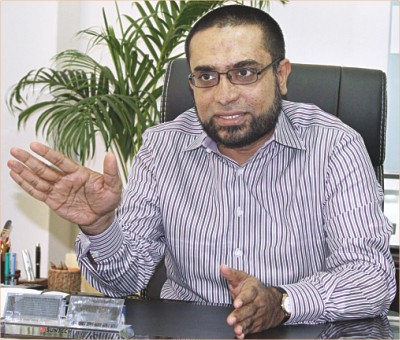 Munawar Misbah Moin
Bangladesh has a huge potential to grab the global market for solar home systems (SHS), if it can replicate its domestic success in the off-grid areas in many Asian, African and Latin American countries.
"The success of the SHS is a global opportunity for Bangladeshi companies. We are working to take a lead role," says Munawar Misbah Moin, managing director of Rahimafrooz Renewable Energy Ltd.
The country has seen a boom in installing the systems in off-grid areas since Infrastructure Development Company Ltd (IDCOL) started its programme in 2003 with financial support from the World Bank.
IDCOL, the non-bank financial institution, has already installed 10 lakh SHSs. It has now set a new target to install a total of 25 lakh SHSs by 2014 in areas where electricity is not available.
According to IDCOL data, it has installed around 12 lakh SHSs till October. A total of its 29 partner organisations are installing around 40,000 SHS a month.
World Bank recently struck a $172 million financing deal with the state-own IDCOL, which will enable the country to install 630,000 solar home systems in rural areas by 2012.
The solar company chief says, "We see a potential of 1.5GW (gigawatt) of SHS globally as around 40 million households in Asia, Africa and South America are still deprived of a grid connection."
The global solar home system market is worth over $8 billion, says Moin.
"If we can take the success of the Bangladesh SHS model across off-grid areas globally, the country can grab a huge amount of foreign currency," he adds.
"The country can earn around $25 million in the next three years, if we can export at least one lakh SHS across off-grid areas globally," says Moin.
Solar systems have become successful in Bangladesh for following sound technical and managerial criteria and government policy support.
In addition, the systems are attractive as maintenance costs are low. The companies also give 20 to 25 years of warranty, say industry insiders.
Rahimafrooz pioneered in the solar sector in Bangladesh in 1985 as a unit of Rahimafrooz Batteries Ltd. Following the success of solar energy, the company formed a separate business unit -- Rahimafrooz Renewable Energy Ltd -- in 2006.
The energy company's main stream business is the solar home system, which is a subsidised project funded by IDCOL. In addition, the company provides customised solutions that include telecom solutions, solar irrigation, drinking water solutions and solar street lights.
The company has so far supplied more than 8 MW of solar systems in Bangladesh including the 33 KW solar system in the Water and Power Development Authority (WAPDA) Bhaban.
It has also installed solar systems on the roofs of the prime minister's office and Bangladesh Bank.
Moin says, "We want to promote the global replication of SHS in least developed countries across the world by participating in trade fairs and using its global network."
He says the company has exported 50 solar systems so far, at a cost of $215 for each 40 watt-peak system to Pakistan on a trail basis.
"We also exported 250 solar lights worth $ 200,000 to the UNHCR refugee camp in Africa this year to light up the streets of the camp."
The street lights have automatic dusk to dawn controllers that enable the systems to turn on automatically in the evening and turn off in the morning.
Rahimafrooz, founded in 1954 by Late AC Abdur Rahim as a trading company in Dhaka, now operates in four broad segments -- storage power, automotive electronics, energy and retail.
The group today has 11 operating companies, a few other business joint ventures, and a non-profit social enterprise.
The group director of Rahimafrooz says rooftop solar systems and solar powered irrigation would be the next two promising areas in the country.
Moin says the country can generate nearly 100MW of solar electricity from rooftops in Dhaka city.
He says a standard 5KW (kilowatt) rooftop solution requires a space of 500 square feet. So, the government should encourage city-dwellers to install rooftop solar systems by offering incentives.
The government has already made it compulsory to install rooftop solar systems for every new electricity connection in grid areas.
Hailing the government initiative, the solar company chief says, "There are a few problems, such as a lack of standardisation and monitoring as the government does not set technical and managerial criteria to run the rooftop systems."
"This encourages malpractice," says Moin.
He says solar power irrigation can be an alternative solution to saving electricity and diesel costs. The country needs to run 1.33 million pumps to irrigate around 120 million acres of rice fields.
"If we run the pumps on renewable energy, it would help save 1200 MW of electricity and 800 million litres of diesel and the government can save up to $80 million subsidy in diesel," says Moin.
The managing director of the company says, "Renewable energy is not actually expensive. It is the most prudent form of investment as it ensures a sustainable energy solution."
He says the levelised cost of electricity generation is nearly Tk 18 a unit in conventional electricity and Tk 25 a unit in renewable energy. So there is not a big difference in price.
The price of conventional electricity, however, will increase to Tk 22 by 2014 due to changes in the fuel mix, while the price of solar energy will come down due to large scale operations, says Moin.
He urges the government to give the same incentives, like to conventional forms, to promote renewable energy in the country.
He says the government should use the climate fund to minimise the initial costs to setup renewable energy.