G20 powers pledge to boost growth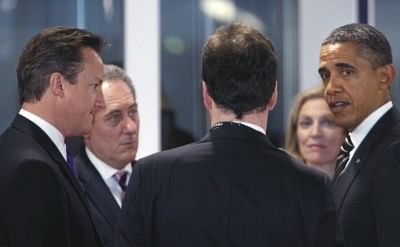 The leaders of world biggest economic powers turned their attention on Italy yesterday, pressing for measures to prevent Rome from following Greece into the abyss of debt.
As the leaders put the finishing touches to a G20 summit statement designed to kickstart global growth and rebalance trade, senior European Union officials said Italy's economy would be put under IMF surveillance.
Italy bridled at the claim, insisting its measures were being monitored by the European Commission with only "advice" from the world's top lender, but Prime Minister Silvio Berlusconi's reforms were clearly under scrutiny.
Greek Prime Minister George Papandreou, who was summoned to the French resort for a dressing down by host President Nicolas Sarkozy and Germany's Chancellor Angela Merkel on Wednesday, faced a vote of confidence in Athens yesterday.
China warned that it feared the eurozone crisis would persist and spread, and the world's biggest economies agreed to attempt to ring fence the crisis by bolstering the International Monetary Fund's resources.