Suharto's death ends another chapter for Asia's strongmen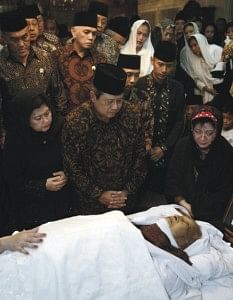 With the death of Indonesia's Suharto, Asia has lost another of its so-called "strongmen" -- the authoritarian and mostly pro-Western rulers who dominated for much of the late 20th century.
From his seizure of power in 1966 until his downfall in 1998, Suharto ruled Indonesia according to a model favouring market-driven economic growth ringed by repressive social control.
It was an approach common elsewhere in Asia too, justified by a notion that "you need a strong ruler to keep order and bring countries into a modern age, an industrialised age," according to Greg Fealy, an academic at the Australian National University.
The politics of the Cold War era, with the constant spectre of a communist threat, also "favoured strong states and strong leaders," he said, even if it came at the inevitable expense of civil rights.
Some, like Ferdinand Marcos in the Philippines, ostentatiously amassed huge wealth for themselves and cronies. Others, like South Korea's Park Chung-hee, were more personally austere while their countries prospered.
Suharto's contemporaries were not cut entirely from the same cloth either.
Singapore's Lee Kuan Yew and Malaysia's Mahathir Mohamad were doubtlessly authoritarian, but not to the extent of iron-willed autocrats such as General Ne Win of Myanmar, whose isolationist rule meant that, unlike the others, he was no darling of the West.
Keeping a tough guy image was optional for such strongmen.
After a speech in 1974 by Park was interrupted by an assassination attempt that missed him but killed his wife, the South Korean leader returned to the podium and finished his speech.
Lee, by contrast, famously shed public tears over his fledgling country's forced separation from Malaysia in 1965, a counter-point to the schoolmasterly authoritarianism with which he micromanaged Singaporean life.
Some of Asia's authoritarian old school have remained close. Mahathir and Lee -- both now in their eighties -- flew to the Indonesian capital Jakarta to visit Suharto as he lay dying in hospital.
The common thread connecting Asia's autocrats was a conviction that Western liberal democracy would not work at home and would even be dangerous, Harold Crouch, an Australian Indonesia expert, told AFP.