Abbasuddin birth anniversary celebrated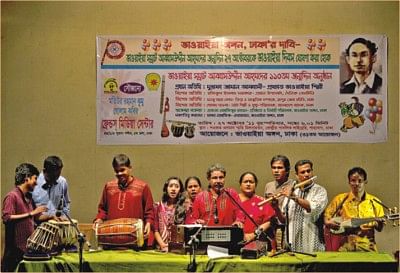 Cultural organisation Bhawaiya Angan arranged a musical programme and discussion to celebrate the 110th birth anniversary of legendary Bhawaiya artiste Abbasuddin Ahmed. The programme was held at the Shawkat Osman Auditorium, Central Public Library in Dhaka on October 27. Members of the organisation, as well as invited artistes, rendered timeless Bhawaiya songs popularised by Abbasuddin and others.
A discussion on the life and works of the artiste was held first. Abbasuddin's son and noted artiste of the genre, Mustafa Zaman Abbasi, was the chief guest at the discussion. He recalled his father's contribution and stressed on the necessity of archiving Bhawaiya songs.
AKM Mostafizur Rahman, founder of the organisation, said that Bhawaiya Angan has taken an initiative to open a Bhawaiya Academy. For this they have started collect funds. Salma Mostafiz, president of the organisation, chaired the discussion.
Mustafa Zaman Abbasi rendered five songs, including "Phande Poriya Boga Kandere". Mostafizur Rahman performed a tribute: "Abbasuddin Tomar Tulona Nai".
Among others, Azizul Islam, Salma Mostafiz, Raowana Marjia, Shaju Ahmed and Abu Hasan sang popular numbers such as "Oki Garial Bhai", "Oki Ekbar Ashia", "Obodh Kaler Shoami", "Oki O Bondhu" and "O Mor Bania Bondhure".
Abbasuddin was born on October 27, 1901 in Cooch Behar, India. His father, Zafar Ali Ahmed, was a lawyer. Abbasuddin was self-taught, except for a brief period when he learnt music from Ustad Zamiruddin Khan in Kolkata and Ustad Kader Buksh in Murshidabad. He sang different types of songs, though became renowned mainly as a singer of folk songs. He became famous for Bhawaiya, Khirol and Chatka songs from Rangpur and Cooch Behar.
He became increasingly popular with his rendition of Jari, Shari, Bhatiyali, Murshidi and Bichchhedi -- especially when these were made into gramophone records. No other singer could surpass his emotional, full-throated rendition of folk songs. He also sang songs on Islamic themes composed by Kazi Nazrul Islam, Jasimuddin and Golam Mostafa.